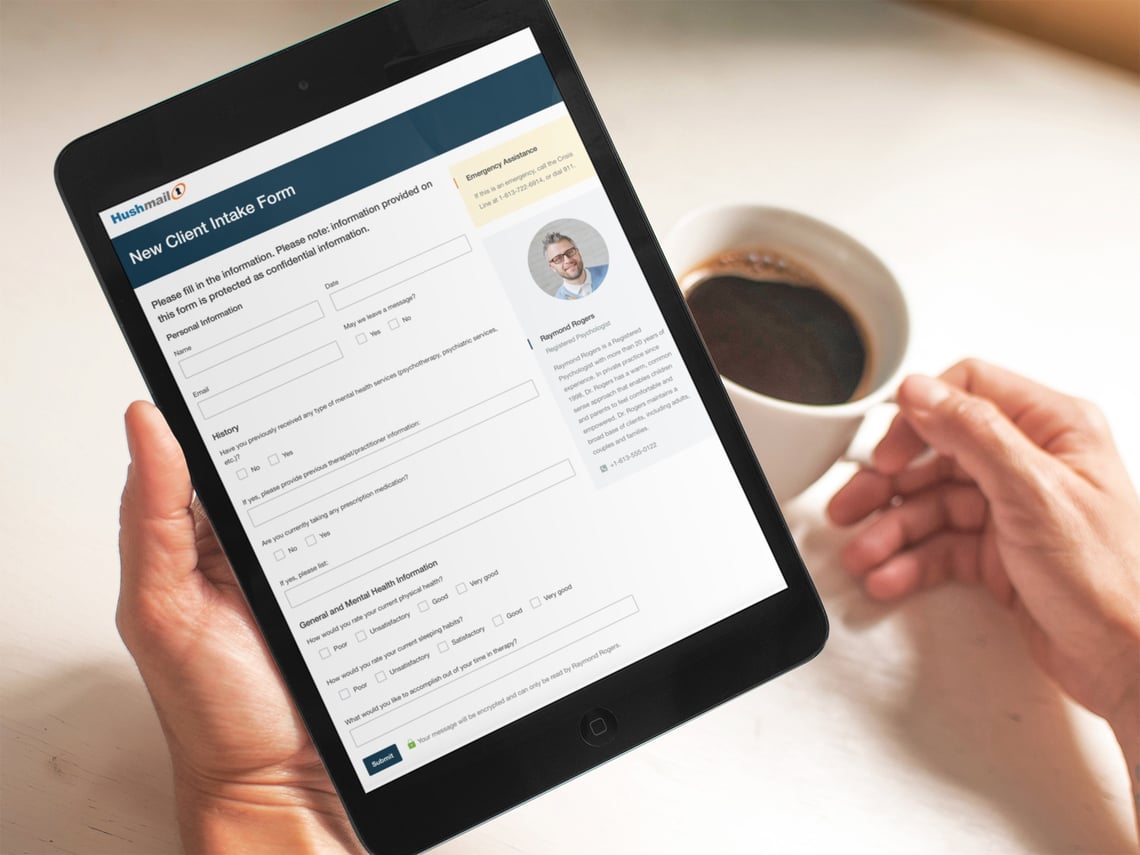 When Hushmail started out more than 20 years ago, our primary focus was email. How things have changed! Today, Hushmail is a one-stop shop for many of your healthcare practice management needs. We want to make sure you're making use of everything your account has to offer, so today, we're going through all the main services - web forms, e-signatures, and email - and all the extra bells and whistles you might not be aware of, such as email aliases and body charts.
Let's get started.
Intake forms, contact forms, COVID-19 questionnaires, and more
We created our web form service, Hush Secure Forms, to be very accommodating of our customers needs, and every Hushmail account comes with at least two web forms. Web forms are great for collecting information from clients, patients, or customers, and with Hushmail that information is protected with the same encryption that secures our email.
You can design your forms just how you like them using our drag-and-drop form builder, or you can find a ready-made form in our template directory.
We've made it easy to share your forms with your colleagues (no need to pay for an additional form if their accounts are under the same domain). And we include a PDF with every form submission so it's easy to print or upload to an EMR.
Hush Secure Forms was built for versatility and comes with some exciting extras. Let's take a look:
Self-administered questionnaires
In addition to intake forms, COVID-19 screening forms, client experience surveys, and other practice forms, we've also added five self-administered questionnaires to our repertoire. These digital versions of popular mental health screenings deliver a score upon completion to the practitioner. We are always on the lookout for new questionnaires for our directory, so check in often to find out what's new and if there is a particular form you would like to see, let us know. Here's a list of the self-administered questionnaires we currently offer.
Conditional visibility
Setting conditions for the fields in your form makes the form more responsive to your clients, giving them a personalized experience. There are many different situations where you'll find field conditions helpful. One situation is when a question on your form doesn't pertain to all of the respondents. For example, on a COVID-19 screening questionnaire, if a respondent replies that they've been in contact with someone who has been diagnosed with the virus, you can suggest that they contact your office for additional screening. However, if the respondent checks "no," they don't receive that message.
Another situation is when a field requires further information, depending on how it's filled out. For example, you might ask your client if they've seen a primary care physician in the last six months. If they enter "yes" on the form, another field pops up, asking for the reason for the visit.
You can read more about field conditions in our blog posts Using field conditions in your web form and Advanced techniques for using conditional visibility in web forms.
Body charts
With body charts, you can create forms that enable your clients to place markers on images to indicate points of pain or discomfort that they can describe in associated fields. This pinpointing ability is especially useful for healthcare practitioners such as chiropractors, physical therapists, and massage therapists, but also for behavioral health practitioners who use homework worksheets to facilitate their clients' progress.
Body charts are available on Hushmail for Healthcare plans of five accounts/forms or more. If you're on a different plan, you'll be given the option to upgrade when you add a body chart to your form.
You can learn more about body charts in our blog posts New body charts and intake forms for chiropractors, physical therapists, and more and Create a CBT homework form using body charts, conditional visibility, and repeaters.
We'll help you build your forms
We understand that sometimes you might not have time to set up a form on your own, especially if it's more complicated than a standard intake form. Let us do it for you. For a small fee, we'll take your paper forms and turn them into web forms that are ready to send to your clients. Let us know how we can help you set up the forms for your practice.
E-signatures
If you're in a healthcare field, most likely, you find yourself needing to collect signatures. Sometimes a lot of signatures. Hushmail makes this easy by giving you the ability to collect as many signatures as you need. We don't cap our signatures the way some services do.
Our e-signatures allow your clients to upload, draw, or type their signature from anywhere, on any device, and our e-signatures are as legally binding as handwritten signatures.
Our email, web forms, and e-signatures all work together, making it easy to track and manage your forms and signatures in one place.
E-signatures are available on Hushmail for Healthcare plans of five accounts/forms or more. If you're on a different plan, you'll be given the option to upgrade when you add an e-signature field to your form.
Email
And of course, we also offer email. Hushmail was one of the first companies in the world to offer encrypted email to the everyday consumer. Today, the increasing need for online security, especially in the healthcare field, has brought a healthy amount of competition to the marketplace, yet Hushmail prevails as the reliable, longstanding email service that balances convenience, affordability, and security.
Hushmail encrypts customer emails with two types of encryption and provides multiple levels of security. We use TLS encryption, the widely used cryptographic protocol used by most email servers to secure messages in transit. We also use Open PGP encryption that secures messages in transit and in storage.
Hushmail protects your emails with clients even if they themselves don't have an email account with us. This is possible through Hushmail's secure message center, where clients can view and respond to messages privately.
Hushmail's encryption is flexible, suiting those with special encryption requirements. For example, did you know that you can manually encrypt your emails when you use Hushmail with a third-party app like Outlook by typing a keyword in the email's subject line? You can read more about this and other ways you can tailor your encryption settings in our blog post Understanding your Hushmail encryption options.
Email aliases
One of the extras Hushmail offers with its email is the option to use email aliases that send from and receive email to your primary Hushmail account. Aliases end in @nym.hush.com, and your real name doesn't show up, allowing you to go incognito in your communications.
There are many reasons for using aliases, including tracking purposes. For example, if you want to track how many leads result from a conference you attend, you can use an alias instead of your usual email so conference generated messages are immediately recognizable in your inbox. You can read more about how to use aliases in our blog post Resolve to organize your emails with Hushmail aliases.
Forwarding addresses
Another option, similar to an email alias, is an email forwarding address. Sometimes it's useful to have more than one email address at your disposal. For example, if you're a small practice owner, you might not employ an administrative assistant. Using a forwarding address, such as info@mypractice.com or frontdesk@mypractice.com, that goes to your main account can make your administrative emails easier to identify and file, and it doesn't cost anything extra. You can set up a separate address for your administrative emails without having to use one of your user accounts.
Feel free to read more about Hushmail forwarding addresses in our blog post Use forwarding addresses with your own domain to manage your email.
Two-step verification
Hushmail's main priority in everything it does is security. We provide multiple layers of security, including encryption, but also options such as two-step verification. If you've enabled two-step verification, you'll be required to verify your identity using two different methods when signing in to your Hushmail account from a computer or device our servers don't recognize.
The first method is with your password. The second method is to verify with a separate security code that's sent to a second device via text message, another email account, or an app such as Duo Mobile or Google Authenticator.
Once you enter the code, the device or computer will be "trusted," and further security codes will not be necessary to access your account for one year or until you clear the cookies on your device's web browser, whichever comes first.
You can set up two-step verification in your Hushmail Preferences, and it's easy to disable on your own if you decide you no longer need the extra security.
Security question
Another security option is using an email security question. When you compose an encrypted email to send for the first time to a new client, you'll be prompted to include an optional security question. The question only appears when the first email is sent. Once your client has set up their password for the message center and answered the question, they are ready to receive and respond to future messages from you.
If you expect to send and receive protected health information (PHI) from a client, and you're emailing them for the first time, this is a very good option to have.
Customer Care that doesn't leave you stranded
Whether you have questions about your email, e-signatures, web forms, or anything else having to do with your Hushmail account, we're always happy to help. Our Customer Care team has been trained to go the extra mile to help our customers get the most out of their accounts, so don't ever hesitate to contact us. We're here to help.
Ready to sign up for a Hushmail account with all the extras?
More than just email. Hushmail also provides web forms, e-signatures, and extra bells and whistles you might not be aware of, such as email aliases and body charts. Whether you have questions about your email, e-signatures, web forms, or anything else having to do with your Hushmail account, the Hushmail Customer Care team has been trained to go the extra mile to help our customers get the most out of their accounts.
Related posts: