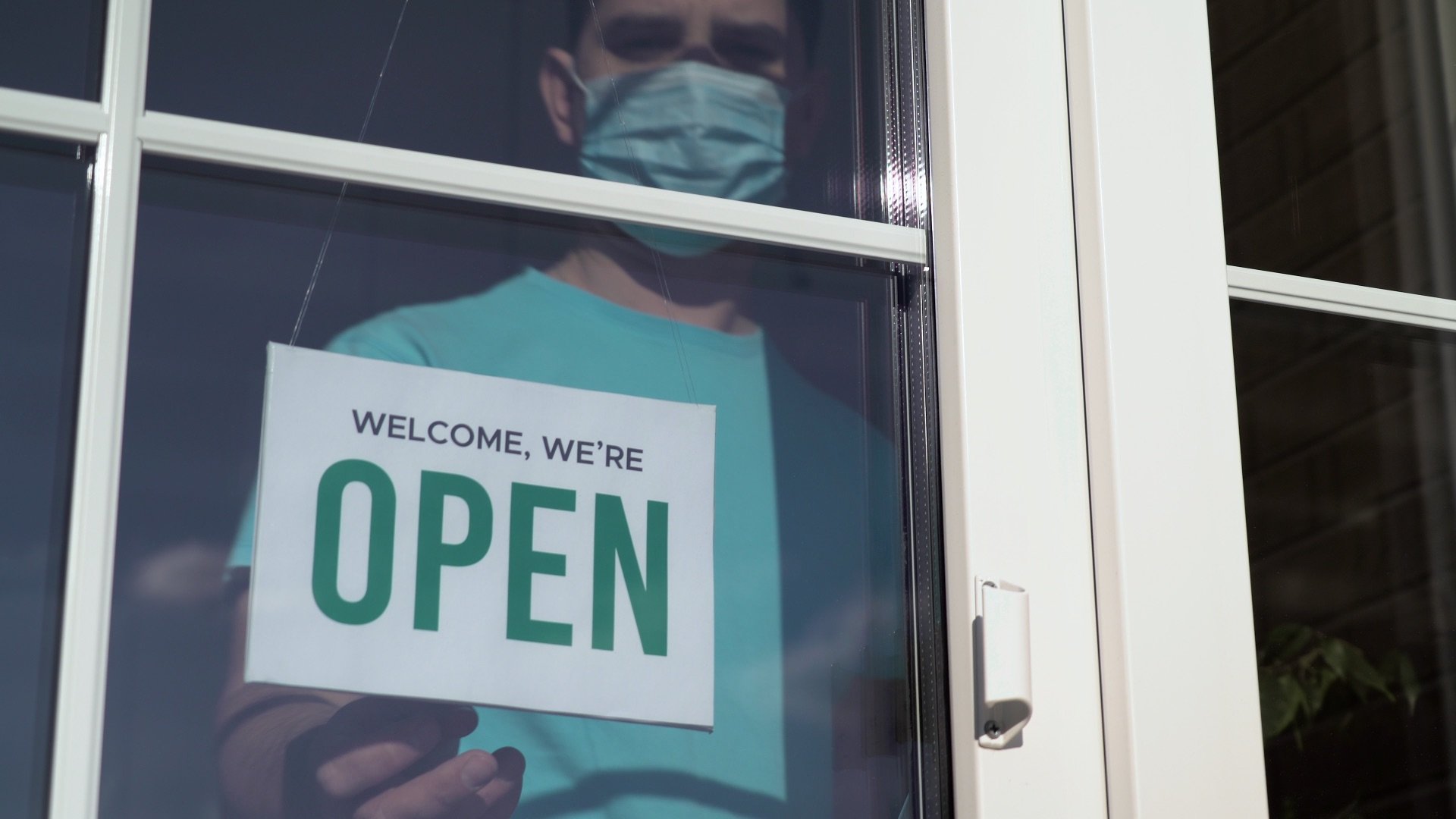 We have had nothing but success with Hushmail and their support. During the pandemic and reopening, their service has played an integral role. We have utilized their form builder to build forms that inform our patients about our newest protocols and what to expect. In order to minimize interaction, they may upload their documents and complete our intake forms online to help streamline visits during these new times of patient care. – Kevin L. Gee, OD, FAAO, Gee Eye Care, Missouri City, TX
The pandemic is spurring many of us to make difficult decisions.
Making a quick transition to a virtual office, or limiting care to emergencies only, was necessary in March to maintain reasonable contact with your patients, while protecting their health. Now, as communities ease restrictions, you might be thinking about the decisions you'll have to make to safely reopen your practice.
Whether you have an optometry, dental, counseling, or other healthcare practice, you're likely considering how you can provide care while limiting unnecessary contact and also remaining HIPAA compliant.
A waiting room contains a plethora of high touch areas, including chairs, tables, and self serve drink machines. Conducting daily deep cleaning can help, but reducing time spent in a waiting room is your best bet to provide your patients with the protection they need.
By using secure web forms that patients can fill out in their home ahead of time, patients can arrive at their appointment and wait in their cars until they're ready to be seen.
If you haven't yet moved over to web forms, the transition can be a fairly simple one, achieved in just a day or two. In this post, we're explaining what Hush Secure Forms offers that can help you make this transition quickly.
What is Hush Secure Forms?
Hush Secure Forms allows you to build the forms you currently use in your practice as HIPAA-compliant, secure web forms. New forms can be built from scratch in minutes with our easy-to-use, drag-and-drop form builder. You can also choose a template from our template directory and add e-signature fields if you have one of our e-signature plans.
Put your forms on your website for easy access
Practice forms that don't need a signature can be put on your website, making it easy for your patients to contact you and securely send you their information. You can put all of your forms in the practice forms section of your website so a single form is easy to find. You can also link to specific forms in your welcome email.
If you need help putting forms on your website, please contact Customer Care for assistance. Or, if you'd like to take care of it yourself, here's a blog post that will walk you through the steps: How to embed a secure web form into your website
The only forms that can't be posted on your website are forms that require a signature. It's necessary to send these forms directly to your patient so you can verify their identity. We'll explain more about this in this next section.
Sign intake forms with e-signatures
Unfortunately, reopening your office doesn't mean everything's back to normal. You'll still need to get intake forms filled out and signed, but with as little unnecessary person-to-person contact as possible. Fortunately, your patients don't have to come into the office to sign when you use Hushmail forms with e-signatures. They can sign from the comfort of home.
Electronic signatures aren't complicated to use, especially if they're built into your web form service like they are with Hush Secure Forms.
Also, while some e-signature services cap the number of signatures you can collect, our plans don't restrict how many times a form can be signed. Once you create a form, you can send that form to as many patients as you want and collect as many e-signatures as necessary.
It's important to remember that you can't publish web forms with e-signature fields on your website. This is for security reasons. The web form must be sent directly to your patient because that's how Hushmail knows that the intended recipient is the signer of the form and ensures Hushmail e-signatures are in compliance with the Electronic Signatures in Global and National Commerce Act (ESIGN) and the Uniform Electronic Transactions Act (UETA), making them legally binding just like handwritten signatures.
Forms for the COVID-19 pandemic
During this time of cautious reopening, web forms can be used in a number of different ways to ensure your patients and staff are protected.
As we've already discussed, patients can fill out intake forms before their appointment time, giving you more time to prepare for their arrival and limiting time in the waiting room.
With web forms, it's even possible to eliminate the waiting room entirely. When a patient arrives at your office for their appointment, they can use their smartphone to click on a link directing them to a specific contact form. All they have to do is fill out their name and check a box, alerting you to their arrival at your practice. That way your patients can wait safely in their cars until you're ready to see them.
Web forms are also a good way to manage the staff and patient COVID-19 checks you're implementing in your practice. Staff members can click on a link each morning when they arrive at the office, fill in the necessary information (e.g., temperature, symptoms, exposure, etc.), and submit the form. Patients can go to a link you send them before their appointment to fill in their information. The forms can then be reviewed and filed away as PDFs, documenting your practice's due diligence in monitoring the health of your staff and patients.
No need for separate services
You need simple, affordable solutions to reopen your practice safely. Combining email, web forms, and e-signatures from different service providers can be difficult and costly. In most cases, you'll find yourself with a lot of troubleshooting and an end result that isn't exactly what you want.
That's why we offer all three services in one package that's affordable and easy to use. Our email, web forms, and e-signatures work together seamlessly and you can manage them all in one place. Plus, they're encrypted, HIPAA compliant, and you get unlimited e-signatures when you sign up for an e-signature plan.
We offer an easy sign-up process you can complete on your own, but if you have questions, our dedicated Customer Care team is happy to help.
Whether you have an optometry, dental, counseling, or other healthcare practice, you're likely considering how you can safely reopen your practice. Web forms can help you make that transition. By using secure web forms that patients can fill out in their home ahead of time, patients can arrive at their appointment and wait in their cars until they're ready to be seen. This is just one example of how web forms can be used to help you safely care for your patients.
Related blog posts to help you reopen your practice with web forms:
E-signatures
Hush Secure Forms
Email