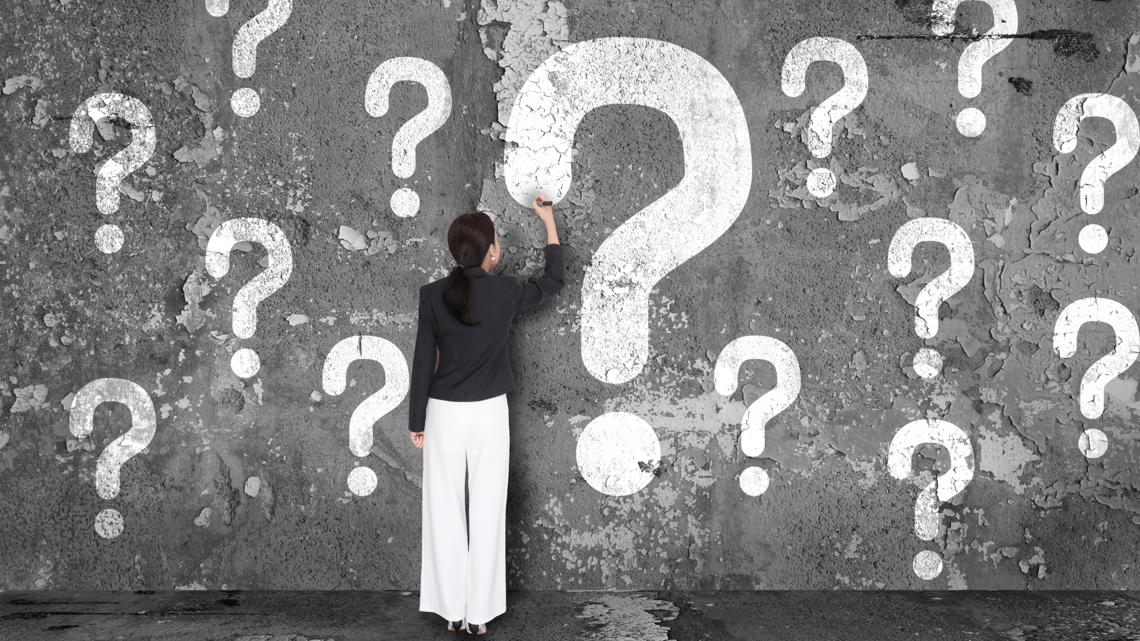 A few months ago, Hushmail launched our e-signatures feature enabling our customers to obtain electronic signatures from their clients on the forms they create with Hush Secure Forms. The process of creating a form with an e-signature field, sending to the client, and managing the forms is very straightforward and user friendly. We realize, however, that with any new feature there are often questions. Let's answer some of these questions today.
FAQs about Hushmail electronic signatures
Are e-signatures legally binding?
Yes. Generally, for an e-signature to have the same legal effect as a handwritten one, it has to comply with the requirements of the Electronic Signatures in Global and National Commerce Act (ESIGN) or the Uniform Electronic Transactions Act (UETA). Hushmail e-signatures comply with both.
However, Hushmail e-signatures do not meet the legal requirements for some documents, such as wills, adoption documents, and property contracts.
What are ESIGN and UETA?
The Electronic Signatures in Global and National Commerce Act (ESIGN) is a U.S. law passed in 2000 that gives e-signatures the same legal status as handwritten signatures, as long as they meet the requirements spelled out in the law. These requirements include the following:
Intent to sign. Just like a handwritten signature, an e-signature must show that the individual intends to sign the document. This could be established with the act of typing a name, drawing the name with a trackpad, or with an "accept" button.
Consent to do business electronically. An e-signature must be accompanied by a documented agreement that says the signer has consented to sign the document by electronic means. This might be a consent clause attached to the "accept" button.
Association of signature with the record. This means a record associated with the e-signature must be created, documenting the process by which the signature was executed.
Record retention. All e-signature records must be retained, available, and reproducible for all signing parties or others entitled to access to the record. All other copies must be destroyed.
The Uniform Electronic Transaction Act (UETA) sets forth similar standards at the state level (except for Illinois, New York, and Washington, which have their own legislation).
Why should I use Hushmail e-signatures instead of HelloSign, DocuSign, or other e-signature services?
Not all e-signature services are the same, and, particularly for healthcare practitioners, it's important that you look for certain features. Hushmail e-signatures were developed specifically with you in mind. E-signatures are HIPAA-compliant when used with a Hushmail for Healthcare account and work seamlessly with Hushmail's secure email and web forms. You can build a form in Hush Secure Forms, add an e-signature field, send to a client for signing, and track pending signatures, all from your Hushmail account.
What's the best way to send a form to my client for their e-signature?
There are several ways you can send your form to a client for e-signing.
Our customers most often accomplish this task by composing an email in webmail and attaching the form they want to be signed using the Add form button. This button pulls up a list of all the forms you've published in the Form builder.
You can also send an e-signature request from the Form builder itself. Once you build and publish your form, you'll be prompted to begin a signing request by composing a new email. All you have to do is click on the Compose a new email link at the top of your form. Your form will automatically be attached to that email.
One more way you can execute a signing request is through the form list in the Form builder. You'll need to find your form and click on Send signing request. Your form is automatically attached to an email.
What is required of my clients when they receive a signing request?
When your client receives a form from you that needs a signature, they will be asked to read and agree to a consent statement. This is to acknowledge that the client intends to sign the document electronically and is aware that once they sign and submit the form, they are also submitting their email and IP addresses. This action will only be required the first time your client signs one of your forms. Linking email and IP addresses to the e-signature enables us to associate the signature with the record, meeting the requirements of ESIGN and UETA.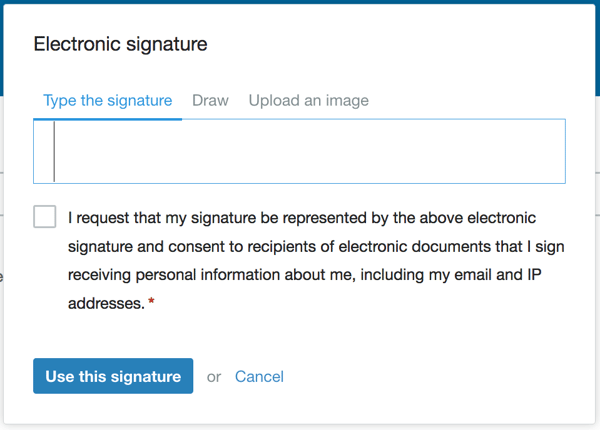 Your client will then have the option to type, draw, or upload their signature onto the form.
Are all forms of signing (typed, drawn, uploaded) equal?
The short answer is "yes." Whether or not a client types; signs with a trackpad, mouse, or stylus; or uploads a previously created signature, all forms carry the same weight from a legal standpoint. However, your client might have a preference for how they sign their name. We've made it easy for them to choose what makes them most comfortable.
What if my client wants a copy of the form they just filled out?
If your client requests a copy of the signed form, you can send them the PDF that arrived in your email inbox along with their form submission.
How do I resend a signing request?
Cancel the initial signing request and create another one to send just as you did the first time.
Ready to add e-signatures to your Hushmail for Healthcare plan?
Adding e-signatures to your HIPAA-compliant web forms is easy with Hush Secure Forms. However, there are a few best practices that can help you incorporate this new feature into your workflow. Understanding how Hushmail e-signatures work will help you use them with confidence to communicate securely with your clients.
Related blog posts: