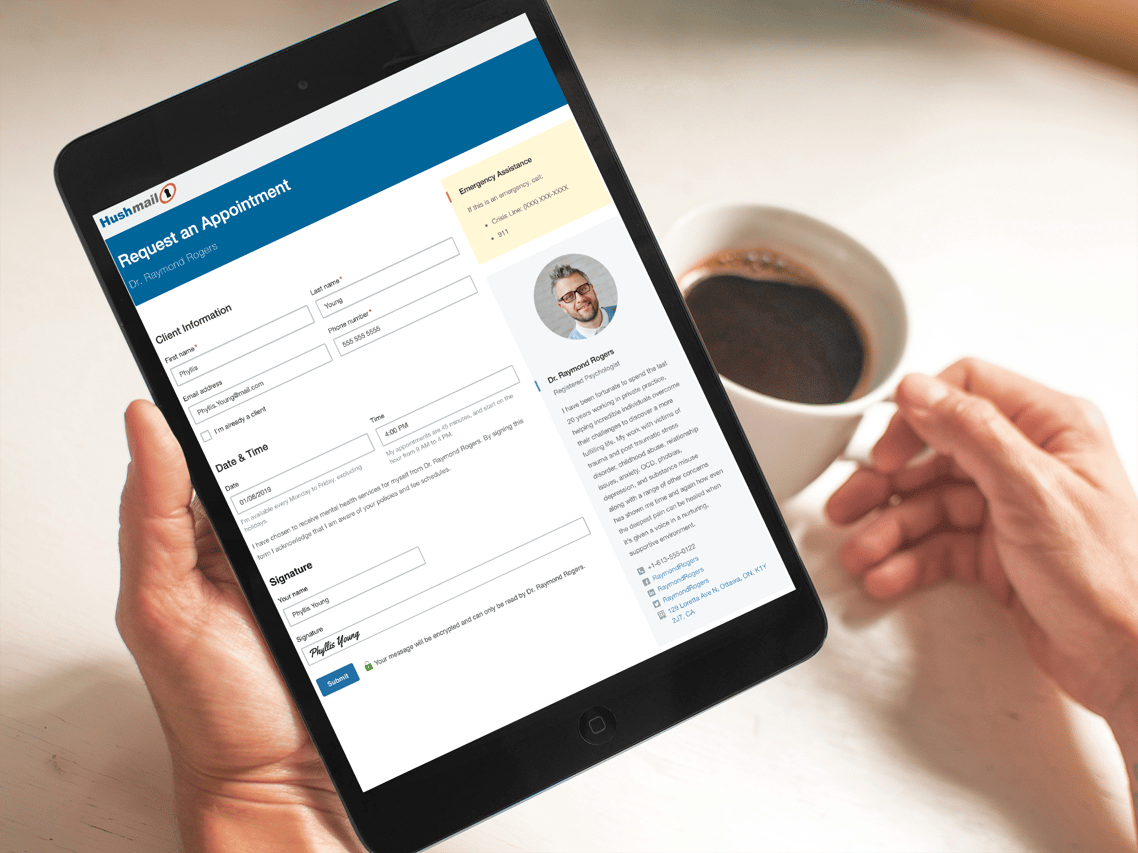 Hushmail will soon add e-signatures to Hush Secure Forms. The reasons to switch from pen-and-ink signatures to e-signatures are similar to the reasons to switch to online forms: efficiency, cost and time savings, and greater security. Many healthcare practitioners who have already made the switch to e-signatures have opted to subscribe to one of the industry leaders such as DocuSign, Adobe Sign, and HelloSign. Or they might just be starting out with a free service like PDF Filler. These can all be good options, depending on your situation.
Not all e-signature services are the same, however, and as a healthcare practitioner, it's important that you look for certain features. A service should ensure that your HIPAA requirements are covered and the e-signatures work seamlessly with your other online communication choices, such as HIPAA-compliant web forms and email.
Today we're going to talk about why it's time to switch to e-signatures and what you should look for in an e-signature.
E-signatures are efficient
E-signatures allow you to complete a signed document with just a few simple steps. Compare this to coordinating a fax, mailing, or signing the document in person. Such tasks might involve verifying phone numbers and addresses, finding stamps, catching the mail, making sure that a fax was received, scheduling appointments, printing and scanning documents - small, unnecessary actions that make signing a document a much bigger project than it has to be.
E-signatures get rid of all the extraneous work, allowing all parties to sign from the comfort of their computer or other personal device.
E-signatures support your efforts to go paperless, helping you reduce the cost of supplies and labor. You'll also be able to free up the designated space used to file paper documents for something else that would be more helpful to your practice.
Keeping your signed documents filed away digitally also keeps them safe from security risks associated with paper such as theft, loss, fire, and flood.
Electronically signed documents are also easy to find. Have you ever had the experience of looking for an important document but couldn't find it because someone filed it in the wrong place? When you sign with an e-signature, the document is automatically filed away. You'll never lose an important document again.
What to look for in an e-signature
As you might imagine, establishing the legality of an e-signature isn't quite as simple as with a penned signature. Even though it's easy enough to insert a signature field into a form, just because a mark has been made that looks like a signature doesn't mean that it's legally binding.
In the United States, the Electronic Signatures in Global and National Commerce Act (ESIGN) was passed in 2000 and gave e-signatures the same legal status as handwritten signatures as long as they show evidence of certain criteria spelled out in the law. These criteria include the following:
Intent to sign. Just like a handwritten signature, an e-signature must show that the individual intends to sign the document. This could be established with the act of typing a name, drawing the name with a trackpad, or with an "accept" button.
Consent to do business electronically. An e-signature must be accompanied by a documented agreement that says the signer has consented to sign the document by electronic means. This might be a consent clause attached to the "accept" button.
Association of signature with the record. This means a record associated with the e-signature must be created, documenting the process by which the signature was executed.
Record retention. All e-signature records must be retained, available, and reproducible for all signing parties or others entitled to access to the record. All other copies must be destroyed.
It's important to note that the ESIGN Act does not apply to some documents such as wills, adoption documents, and property contracts.
Are e-signatures HIPAA compliant?
Although e-signatures were initially included in an early draft of the HIPAA Security Rule, they were taken out before the legislation was passed. You can now find the following language on the U.S Department of Health and Human Resources website:
"No standards exist under HIPAA for electronic signatures. In the absence of specific standards, covered entities must ensure any electronic signature used will result in a legally binding contract under applicable State or other law."
As long as e-signatures comply with the requirements of the ESIGN Act and the Uniform Electronic Transaction Act (UETA), which sets forth standards at the state level (except for Illinois, New York, and Washington, which have their own legislation), they are considered to be HIPAA compliant.
If you would like to read more about e-signatures and HIPAA, this article by HIPAA Journal will provide a deeper understanding of the topic.
E-signatures support your HIPAA compliance
E-signatures serve as an important security measure and used to support your practice's overall HIPAA compliance. Clients or patients can use e-signatures to acknowledge and record their intent to release their protected health information (PHI).
E-signatures give your HIPAA compliance a significant boost when they're included in a suite of HIPAA-compliant communication tools like those provided with a Hushmail for Healthcare account. Even though HIPAA doesn't specifically cover e-signatures, HIPAA does cover the forms that will be signed if those forms contain PHI.
Hushmail for Healthcare provides the HIPAA-compliant web forms to be signed, as well as the encrypted email used to send them. Both of these tools are covered by a signed Business Associate Agreement (BAA). This means you can be assured that your electronically signed transactions are HIPAA compliant from start to finish.
Try out Hush Secure Forms e-signatures
They're HIPAA compliant and easy to use with all of the benefits and support you've come to expect from a Hushmail account. E-signatures will be included on Hushmail for Healthcare plans with five or more users. E-signatures will also be available as an add-on to other Hushmail accounts. Contact Customer Care to find out more.
E-signatures are coming to Hush Secure Forms, bringing you greater efficiency, cost and time savings, and security. These e-signatures abide by the requirements set forth in the Electronic Signatures in Global and National Commerce Act (ESIGN) and support your HIPAA compliance. Hush Secure Forms makes it easy to insert e-signature fields into your secure web forms so you and your clients can sign important documents quickly and efficiently.
Related posts: