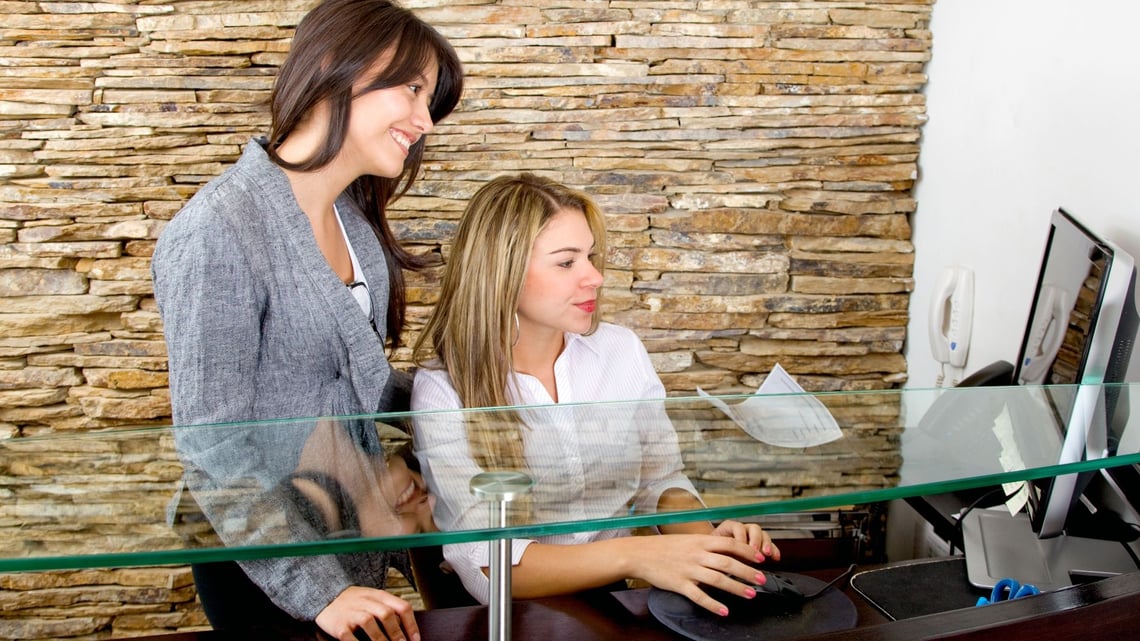 There's a lot that goes into building a nicely designed web form. One part of the form that you should pay close attention to is the title. Much like the title of a presentation or blog post, it should convey the purpose of the form in simple terms.
However, the purpose of a web form title is greater than conveying information. Your form's title can also affect how you manage your email inbox and help you protect your clients' information.
Today we're going to look at three things to consider when choosing the best title and title settings for your form.
1. Your title is your default email subject line
When your clients fill out and submit one of your forms, their responses will go to your Hushmail inbox as email. When we first launched Hush Secure Forms, the default subject line of these emails was Hush Secure Form.
Last month, we updated Hush Secure Forms to use the form title as the default subject line. Form titles in your inbox make it easier to search for and organize completed forms. Plus, if you're using more than one form, it's helpful to be able to identify the form at a glance.
Please keep in mind that this update does not automatically affect older forms. Forms that you built earlier in the year will still have the old default subject line - Hush Secure Form. If you want to change that subject line, then you'll need to make the change manually in Form settings.
2. You can change and customize your subject line
We understand that it might not always make sense for the title to show up in the subject line. Therefore, we've made it easy for you to override the default setting.
All you have to do is go to Form settings in your form builder and type a different subject line in the Email subject field.
Would you like your forms to appear in your inbox with a subject line that's unique to a particular form? We make it easy to customize your subject lines with information pulled from the form. For example, if you want your Client Experience Survey to include the date of the appointment in the subject line, all you have to do is insert the appointment date field name in Form settings. Like this: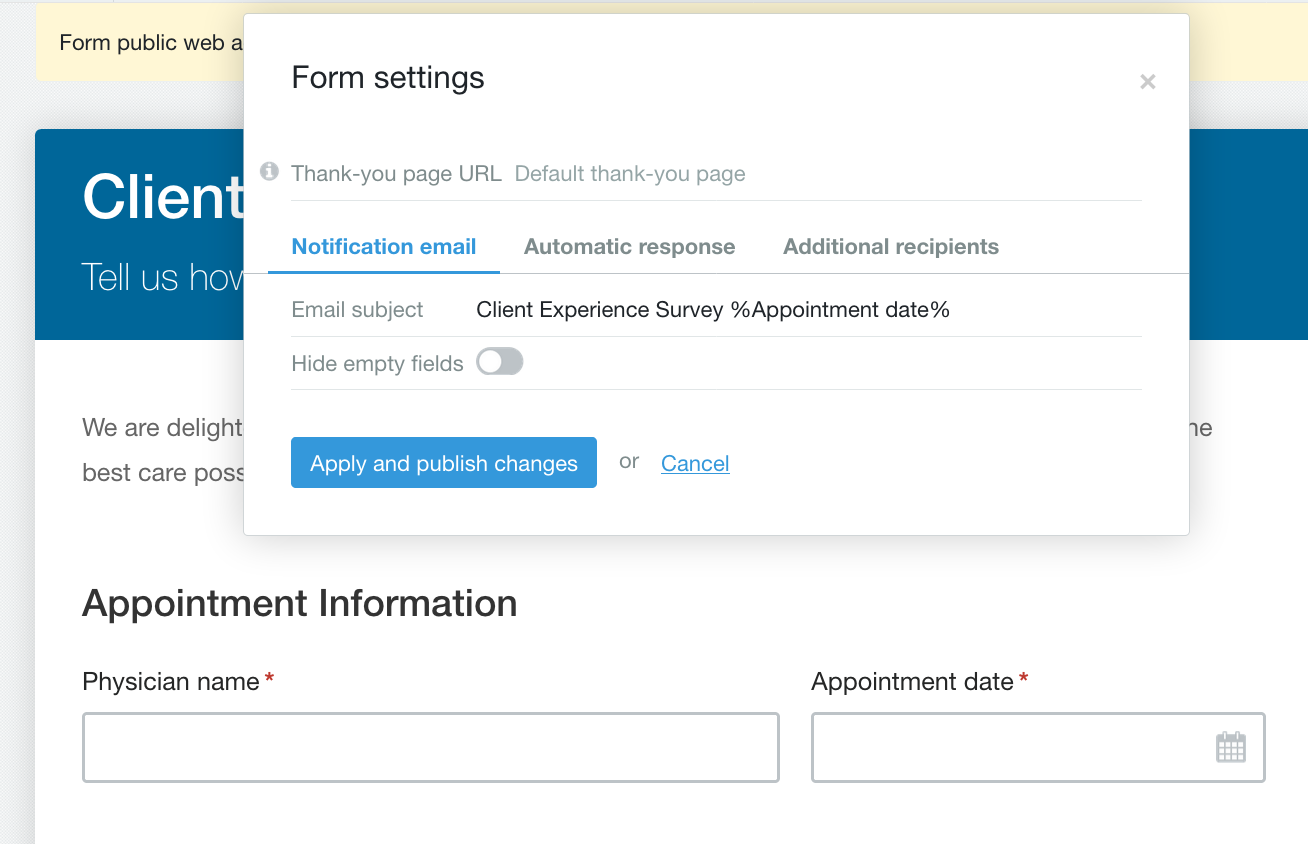 For a more detailed explanation of how to use information from a form in your subject line, please read our blog post Take your secure web form to the next level with advanced tips.
3. Your title may not be suitable for your inbox
In many cases, the form title will make a perfect email subject line. However, there will be situations when the title isn't the best choice for your inbox.
Consider how you manage your forms
How do you plan to organize your forms in your inbox? Are you going to want to sort them by date? Do you have many different forms and need to easily determine the type of form or its purpose? By thinking ahead, you can be sure to choose subject lines that work for you, not against you.
Discretion may be necessary
It's important to remember that email subject lines are not encrypted. Unless you know who will see the subject line when you send or receive a form submission, it's a good idea to consider carefully what information you're including. Sensitive information, such as details of a health screening or the nature of a support group, should be left out of the subject.
In this post, we've only been talking about completed forms that land in your inbox. You might decide that it's fine for there to be protected health information (PHI) in the subject line if you're the only one who will see it.
However, there could be a time when you want to respond back to one of those forms. In that case, consider if the subject line is also appropriate for your client's inbox, which may not be as secure as yours. You can always change the subject line manually when you respond, but because you might forget to make that adjustment, we recommend that the default subject line be more discreet in Form settings when you first build the form.
Some forms require special consideration
Some form titles, such as those for intake forms and contact forms, are generic in nature and don't require special consideration. Other form titles might convey information about your client that they consider sensitive. This is information you don't want showing up in an unsecured inbox.
For example, if the title of your form is PHQ-9 depression screening, but you don't want the nature of the screening to show up in your client's inbox, you might change the subject line to Your confidential screening.
Or if the title of your form is Grief recovery support group registration, you might want to change it to Support group registration.
A good rule of thumb is to put yourself in your client's shoes. If there's anything that you think might make your client uncomfortable, leave it out of the subject line.
Form titles and email subject lines matter
Both your titles and subject lines convey essential information about the purpose of your form. Your email subject line can help you be more efficient in managing the forms that arrive in your inbox. And the ability to adjust that subject line allows you to be discreet about the nature of your forms and protect your clients' privacy.
Choosing a title and email subject line for your form only takes a few seconds, but the decision is an important one. The next time you build a form, think about how it will look, not just when it's being filled out, but when it shows up in an inbox as well.
Don't have access to Hush Secure Forms?
Find out how Hushmail for Healthcare can help your practice grow and thrive with HIPAA-compliant email and web forms.
Your form's title and email subject line convey essential information about your form's purpose. By default your form's title is also your subject line, but you can change this if you need to. Your email subject line can help you be more efficient in managing the forms that arrive in your inbox. You can also customize this subject line, allowing you to be discreet about the nature of your forms and protect your clients' privacy.
Related posts: