If you own a small practice, you probably wear many hats - IT, accounting, and marketing are all responsibilities that might fall under your purview. What about design? One good thing about Hush Secure Forms is that you don't need a design background or coding experience to build a great looking form. However, there are a few design and branding basics that, unless you have a marketing or design background, might not be immediately obvious. Here are a few things you should keep in mind to ensure your forms look their best.
1. Get a professional headshot
Our form builder gives you a good amount of space on the right side of the form where you can include a headshot, bio, and contact information. We suggest that you take advantage of this opportunity to tell your clients a little about yourself. According to digital marketing consultant Krista Neher, images stand out far beyond text, dominating clicks on Twitter and interactions on Facebook. The brain processes an image faster than text, which gives you a little extra power when trying to break through online clutter.
People are also more likely to connect emotionally with images. Allowing your clients to see you while they type in their information makes filling out the form a more personal experience. You don't want to use just any photo, however. A professional headshot is the best bet as it will convey the professionalism you want to be associated with your practice. Here are a few things to consider when choosing a headshot or preparing for a photoshoot.
Make sure your headshot is up to date. Get a new one every three years.
Wear what you would normally wear when you meet with a client.
A headshot means head and shoulders. Full body shots or action shots don't convey the same professionalism or invite your clients to connect.
Keep it simple. Don't include other people or distracting objects in the background.
Look directly at the camera and smile. You want to connect with your clients as if meeting them for the first time.
Make sure the image is in focus.
Ask your photographer to edit anything that makes you feel uncomfortable - a blemish or wayward strand of hair - but don't try to make everything perfect. You want your headshot to look natural.
Good headshots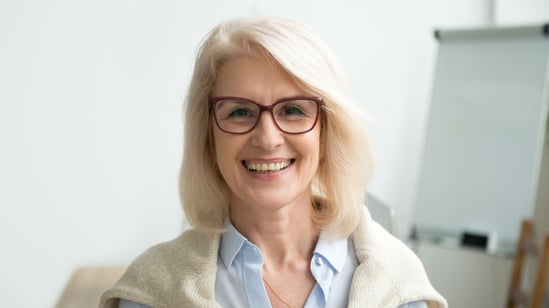 Headshots that could be better



2. Pay attention to your bio
You probably already have a bio for your website. Hopefully, it's warm and inviting, providing clients a glimpse into who you are as a therapist and a person. The bio is where you can really connect with your clients. Tell them what made you want to become a therapist. Even highly personal information such as mention of your own past traumas can help clients relate to you in a way that makes them feel as if they already know you. There is a line, however. Oversharing can also push clients away. Always choose to err on the side of professionalism. A good rule of thumb is to not share anything that you wouldn't share at a first client session.
You have space on your form for a shorter version of your website bio. A good bio might look like this:
Sentence one: Who you are (type of practice, specialties, degrees, training)
Sentence two: What got you there (brief mention of your personal journey)
Sentence three: How you can help your clients
Make sure you take full advantage of the space to add your contact information, including your social media pages (but only if they're up to date).
A good bio
Dr. Raymond Rogers
Registered Psychologist

I have been fortunate to spend the last 20 years working in private practice, helping incredible individuals overcome their challenges to discover a more fulfilling life.

My work with victims of trauma and post-traumatic stress disorder, childhood abuse, relationship issues, anxiety, OCD, phobias, depression, and substance misuse along with a range of other concerns has shown me time and again how even the deepest pain can be healed when it's given a voice in a nurturing, supportive environment. It's an honor to be able to provide this space to my clients and help facilitate their healing journey.
3. Consider how the form will appear to your clients
Perhaps the most important thing you can do when building your form is to view it through your clients' eyes. We suggest you create a form and let it sit overnight before looking at it again the next day. Does the form flow smoothly from one field to the next in a logical order? Does it look organized and professional? Here are a few more things to consider when reviewing your form from the client's perspective.
Is the form a good length for its purpose? It might be tempting to collect as much information as possible, but will your clients get frustrated by a long form? Evaluate your fields and imagine filling them out as a client. A form should have a distinct purpose, and all the fields should support that purpose. Your clients should never ask themselves the question, "Why does my practitioner need to know this?"
Be judicious when making fields required. Some clients may be reluctant to supply some information before they meet you in person. We suggest you limit the required fields to the information you need to run your practice (e.g., name, phone number, email address).
Make sure your form is easy to fill out with drop-down menus, radio buttons, and checkboxes. Limit your clients' need to type as much as possible.
Your form should reflect the style of the rest of your marketing materials, including your website, social media pages, and any print materials you might use. Pay attention to things like word choice. There are likely certain words that you would never use when speaking with a client or talking about your practice. For example, if you're trying to convey warmth and accessibility, you probably wouldn't use overly urgent words like "should," "need to," or "must." You also want to communicate to your clients on a level they'll understand but that still appropriately represents your practice. This attention to word choice and tone matters as much on your web forms as it does in the content of your website. Your form should invite your clients to give you their information, not demand it from them.
Are you ready to start building great looking web forms?
A web form that conveys warmth and professionalism continues the conversation you started with your website and social media pages and makes it easy for your clients to connect. Are you ready to start building great looking web forms for your practice?
Many things go into making a great looking web form that connects with your clients. Fortunately, Hush Secure Forms makes it easy. Design a web form that represents your practice by selecting a great headshot; writing a heartfelt, concise bio; and designing a form your clients will enjoy filling out.
Related posts: