Whether you just signed up for a Hushmail plan or are a long-time customer, you might have found questions popping up from time to time about how your encrypted email and web forms work. If you don't have time to reach out to Customer Care or dig through our help articles and blog, the question could sit around unanswered for a long time. And that's no good!
Today, we're answering some of the most common questions we receive from both new and long-time Hushmail customers.
1. What can I do if my client forgets their password and can't view my messages?
It's important that your clients know how important it is to save their password, preferably with a reliable, secure password manager. If they forget their password, they'll need to click the Reset your passphrase link in the bottom right corner of the message center sign-in page.
To protect the security of the messages that you send, we've made your client's password the key to opening them. Once they reset their password, your client won't be able to access the messages you sent before the reset. You may need to resend any messages they might have missed.
Here is a handy PDF that will help explain to your clients why it's so important to remember their password, along with other useful information about communicating with you through Hushmail.
2. A message to a client expired before they could read it. What can I do?
As an extra layer of security, messages on our message center expire after a set period of time. By default, the expiration period is 14 days.
If a message expires before your client is able to read it, you'll have to resend the message.
This is a global setting that applies to all the messages you send to all of your clients. However, you can send an encrypted email to support@hushmail.com with your request, and we'll set it for as long as you specify. This might prevent future inconveniences.
3. Now that I have a Hushmail account, all of my emails are automatically HIPAA compliant, right?
Not exactly. Your emails are considered HIPAA compliant when the protected health information (PHI) they contain is secure.
PHI includes names, geographical identifiers, dates, phone numbers, fax numbers, and a slew of other identifiers. You can read a complete list in our blog post HIPAA and your private practice: the bare minimum you need to know.
Your Hushmail account gives you the ability to turn encryption on when you need it and off when you don't.
By default, you have to manually activate encryption the first time you send an email to a client by enabling a switch in either your Hushmail webmail or Hushmail for iPhone app.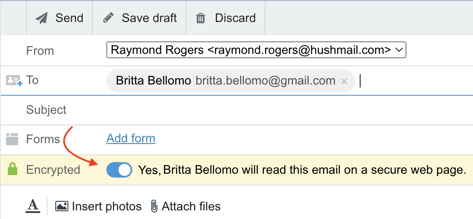 When you activate this encryption, clients will receive your message in a secure message center requiring a password. Going forward, when you email that same client, the encryption switch will be turned on in the Compose window, but you can turn it off when you want to.
You'll want to use encryption when an email contains PHI or when you want your conversation to remain private. If you're sending a quick note to a colleague that doesn't contain PHI, you probably won't want to use encryption that will require the recipient to sign in to the message center.
Encryption protects PHI but only if it's used along with a common-sense approach to protecting the privacy of your clients. Here are some simple but effective things you can do to ensure that your emails are HIPAA compliant:
Don't put PHI in subject lines. Subject lines are not encrypted, so be mindful of what you include.
Doublecheck email addresses before you send.
Be careful about sending group emails. Make sure that no PHI is included.
4. Can I encrypt emails in Outlook or Apple Mail?
Yes. First, set up Hushmail on another email application by following the steps in one of these help articles. Simply select the application you want to use, and the article will walk you through the rest.
Once you've added your account to the email application, all emails will be automatically encrypted when you're emailing another Hushmail account.
You can also encrypt email to those without Hushmail accounts, either by changing the settings so all your emails are encrypted without any further action from you, or by using a keyword to trigger encryption when added to the email subject line. You can set either of these up by sending an encrypted email to support@hushmail.com.
5. Why are some of my clients not receiving my emails?
If you're using your own domain, it's possible that your emails are going into your clients' spam folders. In this case, you may need to create an SPF record.
SPF (Sender Policy Framework) records are a part of your domain's DNS records and identify specific mail servers (Hushmail, for example) that are permitted to send email on your domain's behalf. Your clients' receiving email servers check with your sending email server to make sure the SPF record is in place and the email is legitimate. In other words, not spam.
If you don't add an SPF record, a few things could happen. Your email might be fine and arrive in your client's inbox as expected. Or it could arrive with a warning note at the top of the email.
The worst-case scenario is that your email is sent to your client's junk folder or, in some cases, not delivered at all.
It's definitely a good idea to add an SPF record. Here are the steps:
Log in to the administrative console of your domain registrar, such as GoDaddy
Look for where you can edit your DNS records, and choose to add a text record
In the TXT value field enter the text record: v=spf1 include:_spf.hushmail.com a mx -all
Save your changes
If you need help, contact

Customer Care
6. How do I add formatting to my emails?
Click the underlined A at the top of your compose window to access the formatting toolbar. Apply bold, italics, links, color, lists, and other formatting as needed.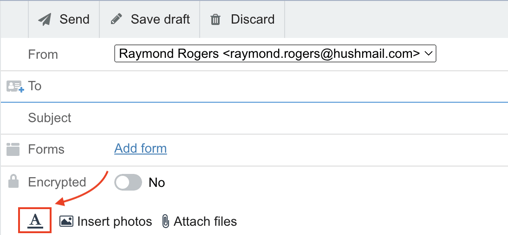 7. How do I add a signature to my emails?
Sign in to Hushmail

, then click Preferences.
In Preferences, click on the Composing tab
Next to Signature click on Click to set.
Enter your email signature.
You can then select whether or not it should appear when you reply to an email, or forward an email.
When you're done, click Save.
Do you need help fitting your head shot or logo into your signature? Contact Customer Care, and one of our specialists will be happy to assist.
8. How can I search my emails?
To search your email, first, open the folder that you would like to search. After opening the folder, you will see the Search field at the top-right of the page. Type one or more search words into the Search field, then click Search.
The following advanced searches will help you find more specific results within the folder you are searching:
from Rick will find all emails from Rick. More specifically, it matches all emails that have the text Rick in the name or email address of the sender.
to Alice will find all emails that were sent to Alice.
subject New client will find all emails that have a subject containing the words New client.
unread will find all emails that are marked as unread.
read will find all emails that are marked as read.
body Questionnaire will find all emails that have Questionnaire in the body text of the email. However, if an email is encrypted, you will not be able to search the body text of that message.
from Rick subject New client will find all emails from Rick that have the word New client in the subject.
9. Is the information submitted through my web forms encrypted?
Yes. The information submitted through your web forms is encrypted with the same TLS and OpenPGP encryption used by Hushmail email.
10. How do I send a web form to my clients?
You can send your web form to your clients in several different ways.
Through the form builder. This will require your clients to access your web form through the secure message center, and they may need to create a password if they don't already have one.

Through webmail. As with sending a web form through the form builder, this method will also require your clients to access your form through the secure message center.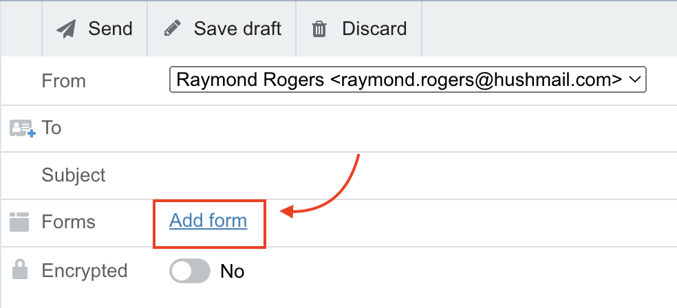 By sending a link. If you want to avoid requiring your clients to create a password and sign in to review your form, you can send them a link where they can complete the form online. You can find this link next to your form in the form builder list. Note: forms with signature fields will not generate a link for authentication purposes and must be emailed through webmail or the form builder.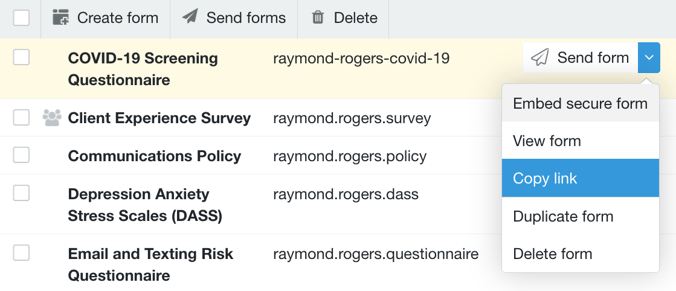 Put the form on your website and send your clients there. You can add a web form to your website as a link that will take your clients to a separate web page hosted by Hushmail, where they'll fill out and submit your form.
You can also add a web form to your website by embedding it, which means the entire form is visible right there on your own web page, and clients can fill it out there. You can read about how to do this in our blog post How to embed a secure web form into your website.
11. How do I add more forms to my account?
Go into your form builder and click on the badge that shows the number of remaining forms. You'll be given the option to upgrade your plan to one with more forms.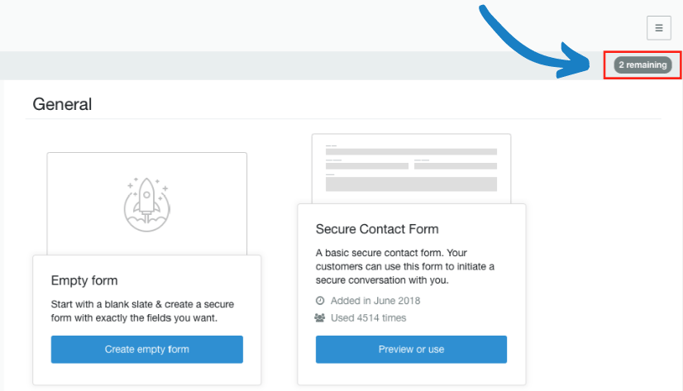 12. Is there an easy way to turn my paper forms into web forms?
Absolutely. There are several ways you can transform your paper forms to web forms.
Copy and paste from a PDF. The simplest way to replicate your paper forms is if you also have a PDF to work with. Then, you can copy and paste the text you need from the PDF into a Formatted text field or two and add the necessary fields. This method works best with very simple forms with few fields.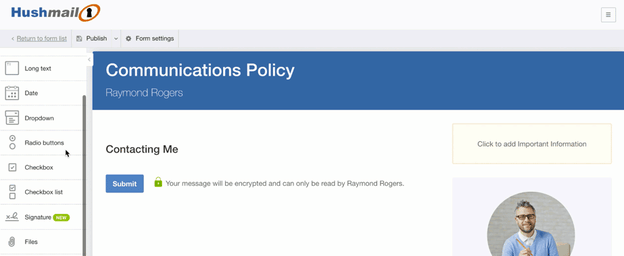 Use a similar template from our template directory. If you don't have a PDF, you can start with one of our templates in our template directory. Simply choose the template that looks the most like your paper form. Then, customize it using our drag-and-drop form builder.
Let us build it for you. To make it as easy as possible, we provide a form-building service that will turn all of your paper forms into web forms for a nominal fee. If you'd like us to take care of it all for you, contact us, and we'll get started.
Ready to get started with a Hushmail account?
What can I do if my client forgets their password and can't view my messages? How do I add a signature to my emails? These are just some of the questions that customers ask our Customer Care specialists. Today, we're answering a dozen of our most frequently asked questions.
Related posts: