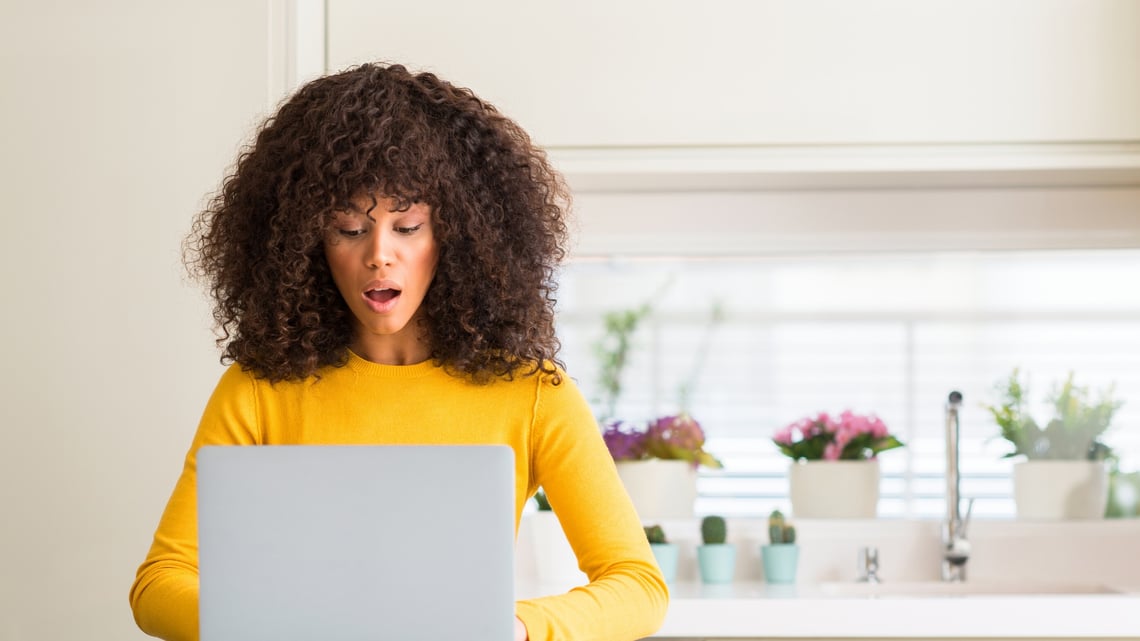 The Hush Secure Forms form builder is an easy-to-use, intuitive tool that helps you build online forms that meet your HIPAA compliance requirements. However, there are some things you want to avoid to make sure your forms function correctly, look great, and are convenient for your clients to fill out.
By avoiding these common mistakes, you can be confident that your forms are making life easier for both you and your clients.
1. Don't recreate the wheel
Sitting in front of a blank screen and trying to come up with a form, even a very simple one, can be daunting. Just like doing anything creative, it's that first brush stroke or opening line that can be the most difficult. Don't stress; keep in mind that your form doesn't have to be a masterpiece. It needs to fulfill a specific purpose (at least it should), and as long as you achieve that purpose, your form will be a success.
However, if writer (or design) block strikes, we have a solution. Start with one of our templates. Even if it isn't exactly the form you need, it will give you a starting point, and sometimes it's easier to edit your way to what you want than to start everything from scratch.
At this time, our templates range from simple contact forms to more complex health history forms. We have templates for the behavioral health field as well as dentistry. However, even if you're practicing in a different field, don't be afraid to use a template from an unrelated industry as a launching pad. If you see a form that fits what you imagine yours looking like, then go ahead and start there. You can use that design and replace the words.
The same goes for a form that has the language you want, but the wrong layout. Keep the words and move the text blocks and fields around until you have the form you imagined.
Keep in mind that we do have a few templates with parts that can't be edited. These are our calculated screening forms, the PHQ-9 (depression screening) and the GAD-7 (anxiety screening). These forms are pretty great because they calculate a score upon completion, but in order for that score to be accurate, the original screening questions must remain intact.
2. Don't use all caps
We've talked about this multiple times in the past, but it bears mentioning again. Using all caps in any kind of communication is akin to shouting. It comes across as belligerent and rude and sends the message that the recipient needs to stop whatever they're doing to pay attention to you. It's an easy way to put a person off, and that's the last thing you want when you send your client a form to fill out ahead of their appointment.
There's another problem with all caps. They're much harder to read than standard sentence case or title case. That's because there's very little shape contrast, and the eye has trouble differentiating words when they all have essentially the same rectangular shape.
SO INSTEAD OF USING ALL CAPS
Try Using Title Case For Your Titles and Header
Or even sentence case, which is highly readable and acceptable in titles and headers. This is the style we use in our blog.
You probably felt differently reading each of the lines above. Choose either title case or sentence case, depending on the one that made you feel most comfortable.
A good rule of thumb is to get into your audience's shoes and consider how the form will look to them. You don't have to be a designer to build a good looking form – keep it simple and don't overdo. We'll talk more about this in the next section.
3. Don't overcomplicate your form
Once you get started building a form, you might be tempted to ask for extra information from your clients. This may seem efficient, but it's usually not a good idea to try to make one form responsible for all of your information collecting. An example of this would be using a simple contact form to also collect new patient information.
Each form should have a clear purpose.
It's also advisable to not overuse required fields. Again, it might be tempting to get as much information as possible, but consider this from your audience's perspective. If your client hesitates over giving you a piece of information they feel is irrelevant and possibly even stops filling out the form, you've missed your opportunity to make them comfortable and collect the information you need to do your job.
Certain fields are expected to be required, such as name and phone number. Leave the choice to fill out fields such as Extracurricular activities up to your client.
Remember, requirements can be off-putting so limit them to the absolutely necessary information.
4. Don't put sensitive information in the form title if it's also your subject line
By default, the title you choose for your form is also the subject line for the email that carries your form to your client (if you choose to email your form) and back to you when they send it back. The point is, your form title will show up in your inbox and your client's. This could be perfectly fine, but if you think the form title might have information in it that's too sensitive for an unsecured inbox, you can easily change the default setting and choose an entirely different subject line for the email.
When you change the default email subject line, you also have the opportunity to customize it with information pulled from the form. All you have to do is put the exact name of the field you want the information to come from between two % signs.
However, the same precaution applies. Make sure the information you're pulling into the email subject line is appropriate for an unsecured inbox.
5. Don't forget to take advantage of e-signatures
Some forms need a signature. If you've been printing out forms for your clients to sign in the waiting room, you can stop. It's much more convenient for everyone to give your client an online form they can comfortably e-sign ahead of their appointment.
Our e-signatures comply with the requirements of the Electronic Signatures in Global and National Commerce Act (ESIGN) and the Uniform Electronic Transactions Act (UETA) and have the same legal effect as a handwritten signature.
We've made the entire e-signing process, from including an e-signature field on your form to managing your e-signed forms, very simple. Your clients can sign from anywhere and from any device, which means less time spent filling out forms in the waiting room. With e-signatures, everyone wins.
Now… let's build some forms
If you don't already have a Hushmail account with forms, we'd be happy to set you up. It's an easy process and you can cancel within 60 days if it isn't what you expected. Visit Hushmail for Healthcare and select how many forms you'll need. Don't worry; you can always add more as you grow and when you find out how useful web forms are for running your practice.
Five things you want to avoid when building your online forms to make sure they function correctly, look great, and are convenient for your clients to fill out. By avoiding these common mistakes, you can be confident that your forms are making life easier for both you and your clients.
Related posts: