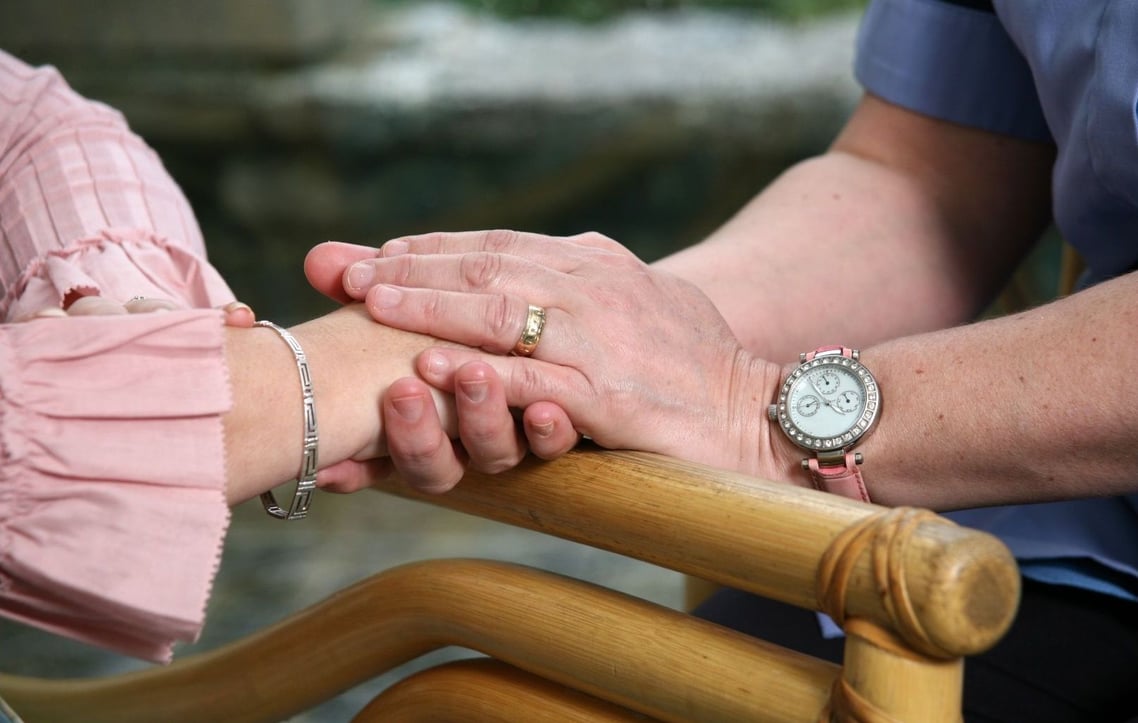 Hardships have a way of solidifying beliefs, strengthening resolve, and giving us an expanded awareness of our roles in the greater global community. They can also serve as the catalyst to make big changes, such as moving to private practice or seeking help from a therapist for the first time.
Most of us would agree that 2020 and 2021 were some of the most difficult years in recent memory, but many of us will also remember this time as a turning point in our businesses and personal lives.
We at Hushmail made some big changes this last year in large part due to the pandemic. We expect you made notable changes as well, especially those of you who serve in healthcare. As we observe Thanksgiving in the US, we'd like to consider some of these changes and note their importance. Let's take a look.
Therapists are needed more than ever



There's always been a need for therapists. Before the pandemic, the accepted statistic cited on many mental health websites was that more than 50 percent of people in the US would be diagnosed with a mental illness or disorder at some point in their lives, and 20 percent would experience a mental illness in any given year. Mental illness is increasingly accepted as something most of us will deal with at some point in our lives, either as the person experiencing it or as a family member.
The pandemic not only exacerbated existing conditions but was the catalyst for new ones. A recent SWNS research study found that more than one out of every six Americans started therapy for the first time in 2020.
In an APA survey conducted in the fall of 2020, a third of the interviewed psychologists said they were seeing more clients. Nearly three-quarters of those who treated anxiety saw an increase, and those treating depression saw an increase of 60 percent.
This increase in anxiety and depression is considered one of the leading causes of the leap in overdose deaths, which exceeded 100,000 for the first time during the period between April 2020 and April 2021. This number is up almost 30 percent from the same period in the previous year.
Interestingly, the same SWNS study showed that despite 73 percent of respondents saying they've seen a therapist, 47 percent still consider going to therapy to be a sign of weakness. A typical attitude was that the depression or anxiety was not a mental health disorder but a response to the pandemic and something they should be able to handle.
At the same time, many of these individuals experiencing depression and anxiety for the first time are seeking help, and unfortunately, not always finding it.
A recent New York Times article tells the story of several individuals reaching out for care just to find no one was accepting new clients or able to give them a referral. Therapists cited extraordinary caseloads that made it impossible and unwise to overextend themselves any more than they already were.
One individual mentioned in the article, Jessica, 33, struck out multiple times as she searched for a therapist in Connecticut to help her with the depression and anxiety she was experiencing as she searched for a new job during the pandemic. "One of the therapists she called wasn't accepting new patients. Two of them told Jessica that they didn't have the right skill sets to help her. Others simply didn't respond. 'It's emotionally draining to tell your story,' she said. 'You have to be resilient.'"
We are now at a place, 20 months since pandemic lockdowns began, where the mental health effects are really showing up, prompting people to reach out for help in growing numbers. The need for good therapists is more evident than ever before. As difficult as it may be, mental health professionals can see their purpose outlined clearly before them, and those of us who provide services to help them can see our purpose as well.
Hushmail is focusing its efforts on helping healthcare practitioners
The transitioning of therapists to telehealth, at least part-time, is seen by many as a good thing with long-lasting benefits.
Carol Park, a licensed professional counselor in Texas said it best. "This has been a difficult time for many. There's a lot of stress, and people are reaching their limits. This is so unfortunate, but the technology that has been put quickly into use . . . is giving many people access to therapy that's more convenient for them, allowing them to get the help they need. That's a really great thing."
Telehealth allowed practitioners to continue providing care during the shutdowns and continues to fill in the gaps, providing another option to individuals struggling to find adequate care.
However, telehealth also brought with it additional administrative tasks that few therapists were equipped to handle right out of the gate.
Although Hushmail was already tailoring our encrypted email and web forms to serve the needs of the healthcare professional, the pandemic solidified our efforts in that direction. When therapists needed to quickly switch their practices to an online platform, Hushmail was poised to help.
Our purpose was clear: 1) provide healthcare professionals with the tools and services they needed to get through this challenging time, 2) make sure our customers could easily use our services in the best way for their practices, and 3) help make it easy for new therapists to begin their professions through our Hushmail for Healthcare program. This program provides free Hushmail for Healthcare accounts for students completing their practicum. Please contact us if you'd like more information.
Everything we do now is focused on making secure communication through email and web forms easier for our Hushmail for Healthcare customers.
When therapists had to quickly get signed informed consent forms from their clients to begin telehealth sessions, Hushmail was able to offer secure web forms and e-signatures already connected to encrypted email accounts.
We also increased our efforts to produce digital versions of popular mental health screenings such as the AUDIT to screen for alcohol use disorders and the PTSD Checklist for DSM-5 (PCL-5) to screen for PTSD.
We've always understood that our Healthcare customers need turnkey solutions, and this was particularly true during this transition period. No one needed extra work. Thanks to a very dedicated Customer Care team, we were able to help hundreds of therapists smoothly transition their practices to online forms and secure email.
Together we're meeting the challenges
Mental health practitioners are on the edge of burnout. Too many people are struggling to find the help they need to get through the day. Once one challenge is met, there's another right around the corner. This is all true.
But we're also becoming better at recognizing challenges and doing something about them, appreciating the hard work we're all doing, and acknowledging that self-care is a requirement to do our jobs well.
In 2022, we hope to see a continuation of therapists and other healthcare practitioners getting the appreciation they deserve along with better options for managing their caseloads. This shift toward recognizing value, supporting it through better services, and giving practitioners flexibility in managing their practices will, in the long-term, better serve the people in our communities who badly need their care.
Thank you to all of the healthcare professionals who are working so hard to help get us through this challenging time.
From the Hushmail family to yours, Happy Thanksgiving.
2020 and 2021 have been challenging years. More than one out of every six Americans started therapy for the first time in 2020. Deaths from overdose have exceeded 100,000 for the first time. We at Hushmail made some big changes during this time in large part due to the pandemic and its effects. Hushmail customers, many of them healthcare professionals such as therapists, made notable changes as well to better serve their clients and patients. As we observe Thanksgiving in the US, we'd like to consider some of these changes and note their importance.
Related posts: