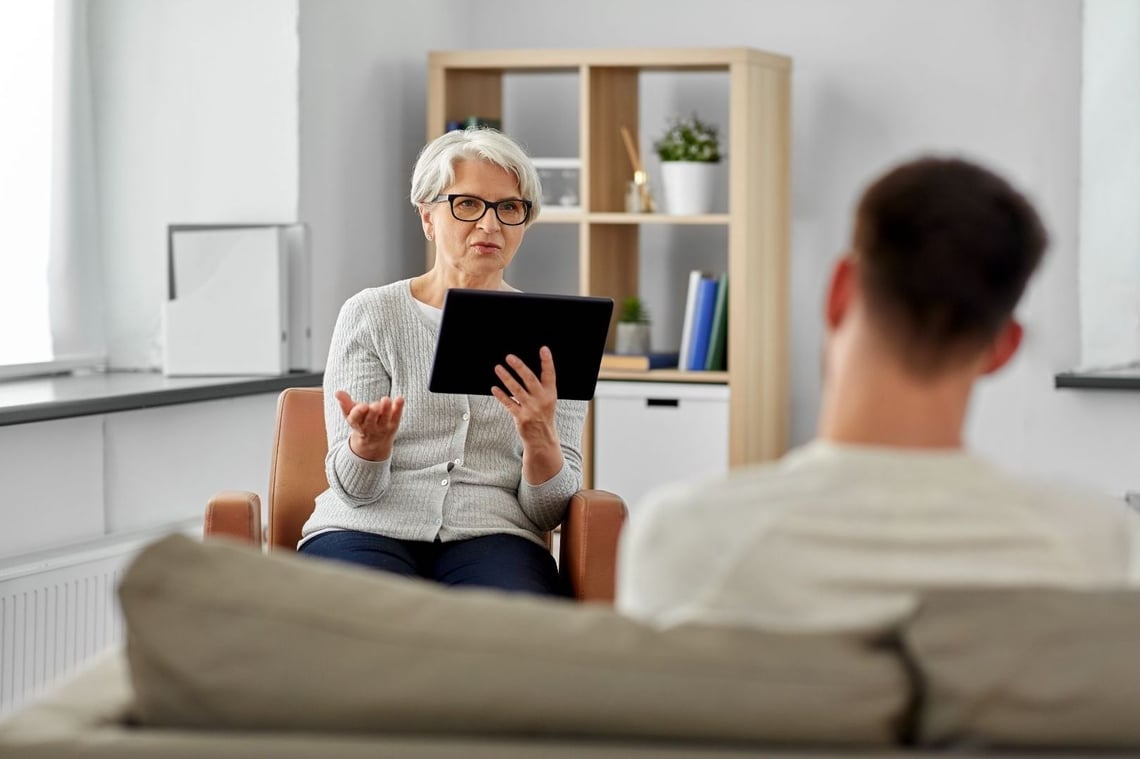 It's one of the great difficulties of being a therapist – all the things you're required to do that take you away from your clients. Billing, insurance, scheduling, managing paperwork. There seems to be an endless number of things that pull therapists into their computers and, unfortunately, away from client care.
It doesn't have to be that way. Something as simple as Hushmail all-in-one email, web forms, and e-signatures can help you streamline your administrative tasks and free up time to spend with your clients.
Today, we're going to look into some of the ways Hushmail can take the administrative load off your shoulders, freeing you up to do more important things.
All-in-one email, web forms, and e-signatures
If you're providing care online, then you need at least three things – a way to securely communicate with your clients via email, a way for clients to complete their forms from home, and the ability for your clients to sign the forms.
Even if you only see clients face to face, these three components are still important for keeping your paperwork organized and compliant.
It's not hard to find these services. All you have to do is run a quick search to find numerous affordable options. However, if you attempt to splice several services together (for example, Hushmail for your email, a free form service for your forms, and Adobe for signatures) or try to make do with sending PDFs for your client to print and scan, you could end up with some very frustrated clients when the services don't work properly together or they have to figure out how to get a PDF back to you.
There are so many different ways to do things, many therapists end up with a hodgepodge of services that are inefficient and expensive in the long run. Or they end up giving their clients the burden of printing and scanning; that's assuming they have a printer and scanner.
Having your email, web forms, and e-signatures all together in one package means they'll work seamlessly together without you having to think about it.
Carol Park, a Licensed Professional Counsellor and dietician, is by her own admission not the most tech-savvy person in the world. Yet, when the pandemic began, she found herself making the sudden shift from a practice that was 90 percent in-person to one that was 100 percent online. Part of that rapid shift was figuring out how to get clients started quickly with online sessions. She found that with Hushmail, she could attach multiple forms to one secure email, get them signed and submitted all at once, and start seeing the new client immediately.
"This was huge," says Carol. "The fact that I didn't have to send multiple emails, have my clients print the forms, scan them, and send them back made everything so much easier. The more things I could take off the plate for them and for me, the better."
Get all the information you need upfront
One of the big frustrations of paper forms is having to go back to your clients to get the information they forgot to include or to verify information that's difficult to read. Web forms can put an end to all of that if they incorporate required fields and other elements that guide your client in giving you the information you need.
Required fields are exactly what they sound like. If a client doesn't include the required information, they won't be able to submit the form. These fields are a great way to ensure you get the information you need but should be used with discretion. If you make too many fields required, your client might get frustrated and stop filling out the form altogether. It's best to leave required fields for the information you really need for your records.
Dropdown, checkboxes, radio buttons, etc., help prevent mistakes by requiring your clients to choose from pre-written answers. Instead of having to come up with an answer on their own, all they have to do is click the best option.
Conditional logic means you don't have to hold back on your forms. You can ask all the questions you want, even if they don't pertain to everyone. For example, you might not want to give all of your new clients the AUDIT self-administered questionnaire that screens for alcohol disorders. However, if a client mentions certain keywords like "drinking too much" in their reason for seeking therapy, a link to the questionnaire can appear just for that client. With conditional logic, your forms can adjust to each client's needs according to their responses. This means when your client arrives for their first appointment, you already know quite a bit about them and have been able to prepare accordingly.
Self-administered questionnaires like the PHQ-9 screening form, can help you gain valuable insight into a client's condition before you meet. You can then use that information to guide your sessions, helping you to provide the best care. Hushmail offers a selection of questionnaires that provide automatic scoring upon completion. Like conditional logic, these questionnaires save time by helping you acquire important information upfront.
According to Howard Bierenbaum, Ph.D., President of Clinical Associates of Tidewater in Newport News, Virginia, Hushmail's web forms are "much more readable than Adobe, and a cinch to edit. They seem also to encourage our patients to complete the forms and to provide more robust and usable information for our clinical needs. And the added bonus of scorable clinical questionnaires is icing on the Hushmail cake."
Create your own forms that save time
If you have a good web form service that makes it easy to create forms to your specifications quickly, you can use them to save time in any area of your practice management. If you're running into an obstacle that takes you away from your clients, there's a good chance a well designed form may be the solution. Taking a look at some use cases from different healthcare fields might spark some ideas of how you can use forms in your practice.
An example from optometrist Kevin Gee
When optometrist Kevin Gee reopened his clinic after the pandemic lockdown, he wanted to keep his patients as safe as possible, which at that time meant spacing out appointments and getting as much information as possible upfront. Dr. Gee created a checklist for this purpose that could be easily modified as requirements changed.
According to Dr. Gee. "This form, coupled with a phone interview, allows us to get all of the "paperwork" out of the way upfront, so when a patient arrives, they are escorted right in to their appointment … Having the patient's information ahead of time helps streamline the visit."
The checklist includes items such as insurance card upload, whether or not a phone interview was conducted, who will attend the appointment, and other information that allows the practitioner to prepare ahead. Depending on how you tailor the form to suit your practice, you may want to add a signature field to the bottom.
An example from dentist Neil J. Gajjar
Dentist Neil Gajjar also needed to modify his administrative strategy when he reopened his practice. Like Dr. Gee, he wanted to get as much information upfront as possible, so he moved his intake forms online and had his patients fill them out before their appointment. He found that having the forms filled out ahead of time allowed his front desk to be more efficient in scheduling appointments.
As Dr. Gajjar discovered, "certain conditions might prompt me to schedule an appointment in the morning rather than the afternoon, or I might want to start or stop certain drugs. Web forms allow me to do all of that ahead of time."
It was also important to him that he not crowd his waiting room with patients, so he came up with a system that allowed his patients to wait comfortably in their cars. He created a simple check-in form and sent the patient a link before their appointment. When the patient arrived, they could click on the link and alert the front desk to their arrival. The front desk could then call when Dr. Gajjar was ready to see them.
Preview Dr. Gajjar's appointment check-in
Use the APA consent form as a starting point
Good communication is essential to maximizing the efficiency of your practice. So much time is spent in the back-and-forth that occurs when there's a misunderstanding. This is especially true as practitioners and clients navigate the unique issues associated with returning to in-person care during an ongoing global pandemic.
Instead of losing valuable time to confusion, a consent form that includes the ground rules for attending in-person sessions helps prevent miscommunications that can cause issues down the road.
Not sure what to put in such a form?
The American Psychological Association (APA) has developed an Informed Consent template just for this purpose and has given Hushmail permission to add it to our template directory. Here are some of the things the APA addresses in the form:
Making the decision to meet face-to-face
Risks of opting for in-person services
Client's responsibility to minimize their exposure
Practitioner's commitment to minimize exposure
How to proceed if the client or practitioner become sick
Client's confidentiality in the case of infection
Whether you decide to use the APA template as it is or modify it for your practice, keep in mind that laws, regulations, and related information continually change, and it's best to monitor local, state and federal officials and update this form as necessary to stay in compliance with their guidance.
See how the template looks in use:
Preview Informed Consent for In-person Services During the COVID-19 Public Health Crisis
Ready to start using all-in-one secure email, web forms, and e-signatures?
Using Hushmail email, web forms, and e-signatures can help you streamline your practice management, become more organized, and save valuable time you can then devote to caring for your clients – which is why you became a therapist in the first place.
Billing, insurance, scheduling, managing paperwork. There seems to be an endless number of things that pull you away from client care. It doesn't have to be that way. Hushmail, and its all-in-one secure email, web forms, and e-signatures can help take the administrative load off your shoulders, freeing you up to do more important things.
Related posts: