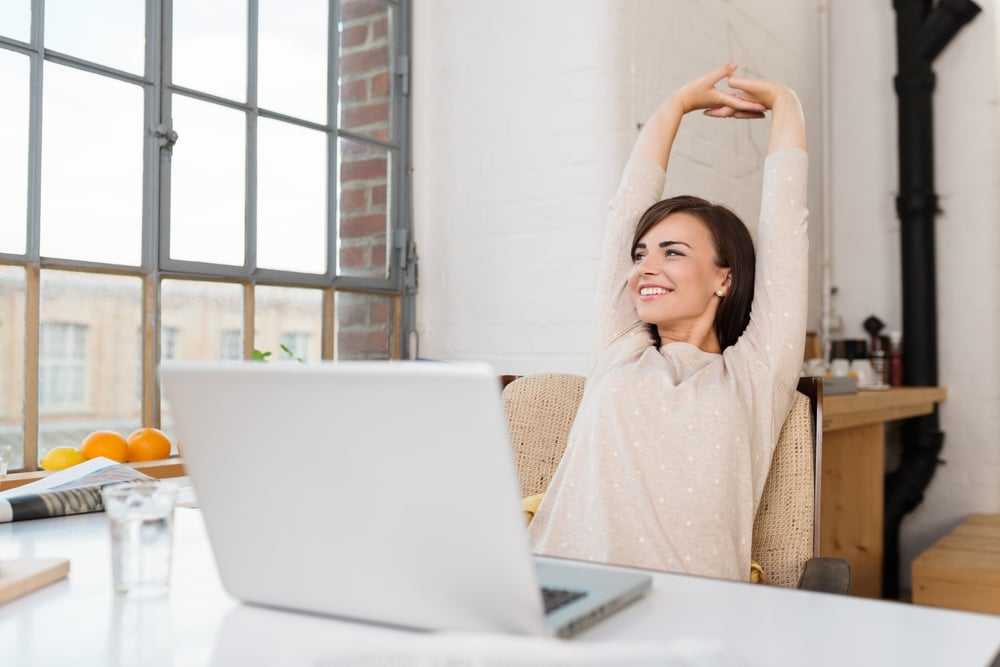 A guest post by Liz Gray, LCSW, RPT, Organize and Thrive, LLC
You're hit with a wave of overwhelm every time you open your inbox. The number of unread emails keeps growing and you're worried about missing an important message. You don't have a system to determine which emails are urgent and important, so you "freeze" and find yourself even further behind. Every day, every week, every month… your inbox continues to grow.
There's simply not enough time in the day to keep your inbox organized!
As a business owner, you are a jack of all trades. You are the CEO, vice-president, bookkeeper, marketer, social media manager, human resources person, planner, and doer. You most likely have multiple email accounts- professional and personal- that can be hard to maintain without a system in place.
Below are 4 simple steps to maintain an organized inbox and take back control of your emails:
1. Assess urgency & importance
Sorting through emails can feel daunting and confusing. "Which emails should I respond to first? Which ones can I file away? What if I accidentally delete something I need?" Using an email matrix like the one shown below can assist you with your decision-making process and take away some of the overwhelm.
Use the email matrix to determine urgency vs. importance
Immediately after you read an email, decide whether to:
Do Now: highest importance and urgency → respond immediately
Do Later: high importance but low urgency → do later (i.e. move to a folder or mark as unread and come back to it later)
Delegate: high urgency but low importance → do you have a virtual assistant or admin staff who can respond to this type of email? If not, do you have template(s) of common email responses to save you time?
Delete: low importance and low urgency → delete immediately!
2. Limit email
If you have 16,000 unread emails, chances are, most of them are unimportant! Take a little time now to save you a LOT of time later on. Start by deleting emails in bulk, then unsubscribing from mailing lists that are creating clutter. It will also help to be more intentional about what lists you subscribe to in the future and to keep work email for work-only!
Have a delete-a-thon
Set your timer, turn on some music, grab your favorite tea, and see how many emails you can delete in a specified time! HINT: if there are emails from a certain sender you know you don't need, type their email or a keyword in the "search box" and then quickly delete all emails they've sent you.
Unsubscribe
If you have inbox clutter, consider whether you'd like to create a rule to send emails directly to a folder or whether you'd like to unsubscribe. To unsubscribe manually, try one of these ideas:
Make it a game! Set a timer for 15-20 minutes and see how many emails you can unsubscribe to.
For the next week, unsubscribe from 1-2 email lists per day.
Be selective about subscribing to email lists
Beginning today, allow yourself to pause before you share your email. Ask yourself, Is there value in what I am signing up for? Will I become annoyed if I receive multiple emails from this sender? If the answers aren't an enthusiastic "yes" and "no," reconsider sharing your email address.
Limit your account to work-only
If you are using Hushmail for your business, limit the emails you send and receive to your professional contacts only. Try to keep any personal correspondence in a separate email account. This will make it easier to maintain your account and create less of a headache if you ever need to access business emails for accounting or legal purposes.
3. Schedule uninterrupted time
It is so easy to become distracted by your phone, social media, and family (especially if you are working from home). Try these quick tips to minimize distractions and maximize your productivity!
Schedule recurring reminders
Put a reminder in your phone to go through emails every day. Depending on your schedule and preference, maybe this is once, twice, or even three times per day. Whatever you decide, create an event in your calendar that pops up to remind you to check your email and either do now (respond), do later, delegate, or delete.
Minimize distractions
During your scheduled email time, limit distractions as much as possible. For example:
Make sure you are in a quiet location with minimal distractions from people, pets, and environmental noise.
Open a new browser with only 1 tab: your email. That way, you will be less tempted to check social media or work on other projects.
Use a timer on your phone, or a free computer app called "Tomato Timer" with a countdown so you know exactly how much time you have in each work block (i.e. 25 minutes).
Join a coworking session such as FocusMate to stay on task and have external accountability from a coworking partner.
4. Organize your folders
After you complete the first three steps, it's now time to create folders and subfolders. You can organize alphabetically, by importance, category, sender, or any way that makes the most sense for your brain.
Create folders
You can create as many folders as you would like. Make sure they are labeled clearly. Folders will automatically default to be in alphabetical order, but you can move important folders to the top by putting a symbol such as * in front of the name.
How to: Click Manage Folders → New Folder → Add Name of Folder → Save
Create sub-folders
Create folders within folders within folders to make it very easy to know exactly where any incoming email should be filed.
How to: Click Manage Folders → New Folder → Add Name of Folder → Click the Dropdown Menu → Choose Folder → Save
* IMPORTANT or *TO-DO folder
If you have important emails that you don't want to lose- or that need to be responded to immediately- you can file them into your "important" or "to-do" folder. Just make sure to check the folder consistently!
How to: Create a folder called *Important or *To-do (include a symbol so it moves to the top of the folder list).
Filters
If you want every email to go directly to your inbox, you don't have to do a thing. However, if you want certain emails or senders to go directly to a specific folder and bypass the inbox, you can set this up!
How to: Open an email that was sent to you → Click "Create a Rule" next to sender's name → Choose folder from dropdown menu (or select "new folder" and create a new folder)→ Save
Next steps…
Ready to take control of your inbox and do a deep dive into your email matrix? Click to sign up for Liz's Email Workshop for therapists & coaches who need a foolproof system to manage their overflowing email inbox. If you'd like to work through any other organizational, systems, or mindset challenges, click to learn more about Liz's 1:1 VIP Day intensives.
Liz Gray, LCSW, RPT is a certified Clini-Coach® and founder of Organize and Thrive. She is a Mindset and Systems Coach who helps overwhelmed therapists shift their mindset to create systems that honor their unique personality and leverage their sensitivity. Through VIP days and courses, Liz guides others to transform their internal and external barriers into sustainable and streamlined practices. Liz lives with her husband and mini Goldendoodle, Bailey, in Chicago, Illinois. She loves to craft, bake, and color-code her spreadsheets!