Interview conducted by Dana Smith
Hi Paul. Great to meet you. Where are you originally from?
Dublin, Ireland.
What brought you to Hushmail?
I first visited Canada in 2009 on a one-year working visa and completely fell in love with Vancouver. I moved home after my visa expired with hopes and plans of getting back to Vancouver as soon as I could.
Unfortunately for me, I went home to a recession, and before I knew it, it was 2018! So there I was back home in Dublin, and Vancouver is sounding better and better.
I've always worked in IT support and Customer Care and have this relentless drive to fix things or to find out how something works, or why it's not working. So as I began my Canadian adventure I came across Hushmail's job ad for a role in support and thought it sounded ideal.
After meeting the team, I knew this place was the perfect fit.
What is your role at Hushmail?
Customer Care Specialist. I'm the guy on the other end of the phone with the strange accent! When I'm not answering the phone or returning voicemails from people, I'm answering emails. As well as fixing the day to day problems that might come up; I help people set up their accounts, answer sales questions, and offer advice for any tech related questions.
What is your favorite part about working at Hushmail?
Getting to talk to some very interesting people on the phone every day! And of course, the awesome team I work with and the fact that we're in Vancouver.
I also love the size of Hushmail as a company. I've worked with both small businesses and giant corporations previously, and I much prefer this to a giant multinational company.
What are the biggest obstacles you face in your work?
There are not enough hours in the day. Sometimes I feel bad if we can't get back to someone fast enough or get something done immediately.
They say you can't please everyone all the time.......but I'll always try!
What have you discovered about your position at Hushmail that has been surprising to you?
There is so much more effort put into Customer Care and support than other places I've worked. There is a lot more focus on quality rather than quantity.
What would you like to learn more about and how would you like to grow, in either your work or personal life?
I always try to be the best version of myself in all areas of my life, I try to push myself to get out of comfort zones and challenge myself.
I don't think we should ever stop learning or exploring in life. Right now I'm trying to learn more about coding, and I'm always trying to stay up to date with new technology.
Outside of work-related stuff, I'm always working on various physical challenges such as handstands and gymnastics tricks like elbow levers.
What would you most like Hushmail customers to know about what you do at Hushmail?
We will always do whatever we can to help. There have even been times when it wasn't necessarily a Hushmail problem, but I've picked up the phone and called other companies on a customer's behalf - just to get the problem solved.
What details about your life outside of Hushmail would you like to share with readers?
When I'm not working, I'll probably be out wandering the parks and forests of Vancouver watching the birds, raccoons, squirrels, and whatever else appears.
If I'm not there, I'll be playing guitar or upside down on monkey bars somewhere.
What's one thing about you that might surprise your customers (or your team members) if they knew?
I'm a vegan who likes doing handstands.
Is there anything you'd like to mention that hasn't already been addressed?
Did I mention that I like Vancouver?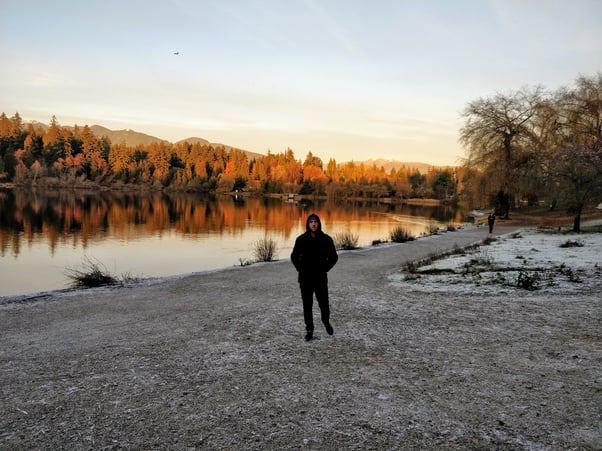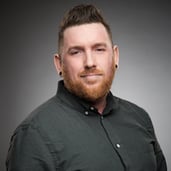 He helps new customers set up their accounts, answers questions, and troubleshoots on Hushmail's Customer Care Team. Hailing from Dublin, Ireland, in his spare time, he's enjoying the great outdoors of Vancouver, playing guitar, or physically challenging himself with various gymnastics tricks. Meet Paul, Customer Care Specialist at Hushmail.