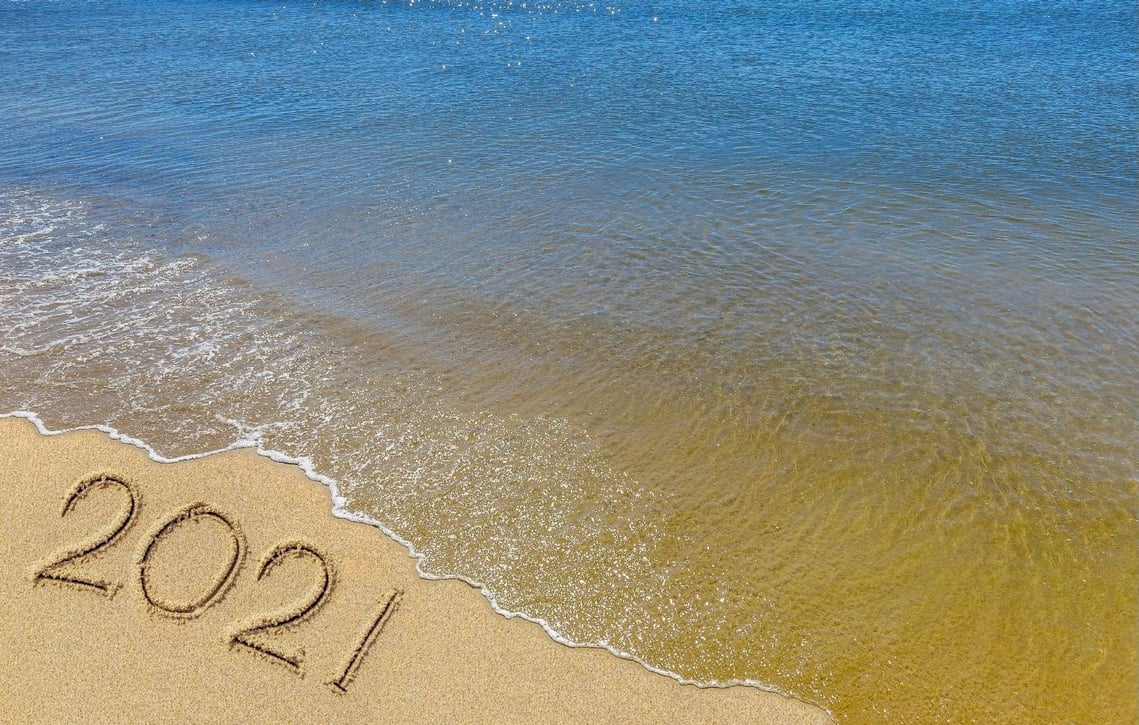 As we wrap up another year, we have an opportunity to look back and take stock of what we've accomplished. This year was notable for being the second year of the pandemic. Some of the challenges we encountered along with our customers in 2021 were a continuation of those of the previous year. Some, such as figuring out an efficient hybrid work model, were unique to this year. Our response to these challenges didn't change, however. We continued to develop and launch new services for our customers that would help them provide care to their clients and patients.
Here's a recap of what Hushmail accomplished in 2021.
We expanded our Customer Care team
Customer Care is the backbone of everything we do at Hushmail. We know that our services are only as good as our customers' experience. We can provide the best communication services available, but they aren't going to help you if someone isn't there to answer questions and offer support.
Reaching out to the support team of a technology company doesn't normally rank high on a person's favorite things to do – until you reach out to Hushmail Customer Care. A lot of our customers have stated how much they actually enjoyed their experience while getting the help they needed.
We believe this is largely due to the fact that we encourage personal, "real" experiences with our Customer Care team members. They don't respond with a script in front of them. They don't have time limits on their calls. They're encouraged to be themselves and get to know you. Our Customer Care Specialists have names, and you can ask for the same person every time you call.
In our Core Values (Relationships, Simplicity, Clarity, and Privacy), we've placed Relationships at the top for a reason. It informs everything else we do.
We treat everyone we communicate with as people. In turn, we communicate as people too, not robots. We are approachable, and we always leave the door open so that people feel free to reach out at any time.
This approach has never been more important than it is now as we continue to adapt to fluctuations and changes driven by the pandemic. Hearing a friendly, unscripted voice on the other end of the line makes all the difference.
We introduced body charts
This year, we were very excited to introduce body charts to Hush™ Secure Forms.
With body charts, your clients can place markers on images to indicate points of pain or discomfort that they can describe in associated fields. This pinpointing ability lets you create more comprehensive intake forms so you can prepare for appointments before your clients arrive.
This feature is especially valuable for chiropractors, massage therapists, physical therapists, and acupuncturists, but there are applications for behavioral health as well. For example, you can create a homework form that lets your clients pinpoint on a body chart where they're feeling specific emotions.
Body charts are available on our Hushmail for Healthcare plans with 5 user accounts or more. To add one to your form, find the body chart feature under Advanced fields in the control panel along the left side of your form builder. When you drag and drop the body chart feature into your form, a stock image will appear along with pain type and severity fields. These are all customizable.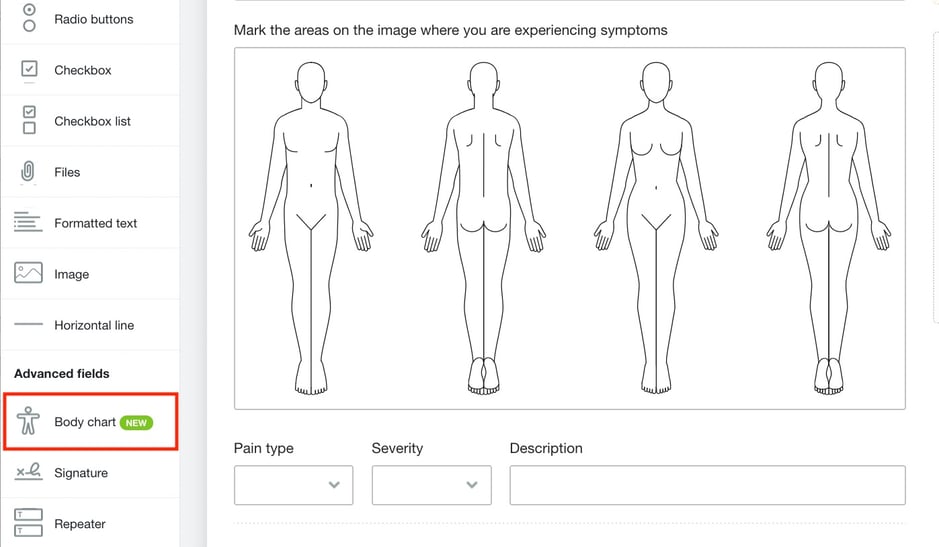 To learn more about body charts, take a look at our blog post New body charts and intake forms for chiropractors, physical therapists, and more.
We added new templates to our template directory
We're working hard to fill our template directory with templates that are useful for all of our customers. This year we worked with the American Psychological Association (APA) to include the Informed Consent for In-person Services During the COVID-19 Public Health Crisis template.
The template was created to address concerns associated with reopening practices for in-person sessions, such as making the decision to meet face-to-face, the risks of opting for in-person services, the clients' responsibility to minimize their exposure, and much more.
We also added more self-administered questionnaires to help screen your clients for a variety of mental health disorders. These are digitized version of the original screenings and deliver a score to the practitioner upon completion:
We also expanded the directory to include templates for more healthcare specialties, such as chiropractic and physical therapy. These templates were created with our new body charts feature.
We encouraged you to enable two-step verification
This year, we also provided a little coaching on good security practices. There are two very simple things everyone can do to greatly reduce the chances of their account getting hacked. One is to use strong, unique passwords or passphrases. The other is to enable two-step verification. Although easily implemented, many customers fail to take advantage of these preventive measures because they don't seem immediately urgent and require a little know-how.
We've always advised our customers to be thoughtful about their passwords. This year we also really pushed for two-step verification on all Hushmail accounts. A big part of this was making the step easier to take in your webmail preferences.
Two-step verification is about as ironclad a defense against hacking as you can get. Here's how you can set it up in Hushmail.
Sign in to your Hushmail account
Go to the Preferences page by clicking the link in the upper right corner
Select the Security tab
To get started, click on the pencil icon to turn it on
Follow the on-screen instructions
For more detailed instructions, read our

help article
Still need a Hushmail account?
As we wrap up another year, we have an opportunity to look back and take stock of what we've accomplished. In 2021 we expanded our Customer Care team, introduced body charts, added new templates to our template directory, and encouraged you to enable two-step verification.
Related posts: