We love our partners and affiliates! We've partnered with numerous like-minded organizations that offer valuable services to our customers. We've also been growing our affiliate program. In doing so, we've developed a robust network of reliable, highly valuable resources. On select days, we will highlight our partners and affiliates in special "partner" posts on our blog. Offering access to our partners' expertise is just one more way we can bring value to our customers.
If you're interested in becoming a partner or affiliate, please reach out to us or take a look at our Partner program and Affiliate program to learn more. If you're a Hushmail partner or affiliate and would like to contribute to our blog, please complete this form.
Hushmail partners help students prepare for the professional world
Throughout the year we attend several behavioral health conferences where we meet with partners, learn about recent developments in the field, and spread the word about our newest services. We also get to talk to students who give us valuable insight into their world as they conduct their practicums. Our conversations often turn to what they should be doing now to prepare for professional life. As students, they're focused on becoming compassionate, competent practitioners, but they're also concerned about meeting licensure requirements, understanding HIPAA rules, and finding reliable, secure technology. There's a lot to learn, and we advise students to start looking now for resources that can help them bridge the gap between student and full-time professional.
We are fortunate to partner with several organizations that offer a wealth of knowledge to anyone entering the behavioral health field. We've pulled together a few of their tools and resources that students can use now to get themselves up to speed before they begin full-time careers. The services are minimally priced or free for students, and most will continue to benefit them after they've become professionals.
Track training in real time with Time2Track

Students conduct their training with graduation and licensure always in mind. That's why one of the first recommendations they hear is to track their training hours in a way that's easy to organize and report. This will prevent a lot of headaches when it comes time to apply for internships.
Hushmail partner Time2Track makes this task a breeze. Time2Track was created in 2003 by two clinical psychology students who decided to develop a tool to make the APPIC internship application process more manageable for other clinical psychology students. Since then, Time2Track has grown to provide services to many other behavioral health professions as well as non-clinical fields.
Time2Track allows students to record training hours in one place, organized in easy-to-read progress reports and accessible on multiple devices. The service simplifies the process of applying for internships, jobs, and licensure, and at the low price of $4/month, it's an affordable tool that has become indispensable for many students and early career professionals.
Learn about HIPAA requirements with Hushmail for Healthcare
Time2Track is also helping students become HIPAA compliant by providing Hushmail for Healthcare to their student subscribers. Excellent communication skills, such as the ability to listen and respond effectively, are essential to becoming a successful practitioner, but so is maintaining clients' privacy with secure communication tools such as Hushmail's encrypted email service.
Cultivating HIPAA mindfulness can take some time and experience. That's why Hushmail gives students access to Hushmail for Healthcare for the low, one-time fee of $8.49 through their Time2Track subscription. Using Hushmail for Healthcare early with attached tools such as Hush Secure Forms can help students become familiar with HIPAA and comfortable using encrypted services before they're under the pressures of a full-time job.
Establish a network with Hushmail partners
Tracking training hours and learning about HIPAA requirements are just the beginning when it comes to preparing for a successful career. The healthcare industry is always in flux with changing regulations, developing technologies, and new models of care. For someone new to the field, it can feel overwhelming. That's why it's important to find a handful of trusted experts who can provide reliable guidance and support.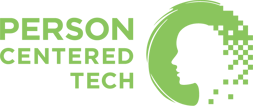 Hushmail partners are a great place to start when building a network. One excellent resource is Person-Centered Tech, "your expert support partner for telemental health and HIPAA compliance." The Person-Centered Tech team understands how confusing HIPAA requirements can be and offers numerous membership courses to address these concerns, including how to choose and set up technology and how to run a full HIPAA compliance audit. From now until Nov. 26, Person-Centered Tech is holding a Cyber Monday sale on their Telemental Health courses. After the sale, Hushmail customers will still receive 20% off with the coupon code HUSH.
Person-Centered Tech also offers plenty of free resources that can help students better understand HIPAA compliance. Perhaps best of all, Person-Centered Tech provides their guidance with a dose of humor that helps ease the intimidation of a complicated subject.
Another excellent resource is Tame Your Practice, a consulting firm run by licensed professional counselor Rob Reinhardt. Years of running his practice taught Reinhardt that there are numerous paths to success. As a consultant, he offers a customized approach to help a new practice align with the unique skills and focus of the practitioner. Although his specialization in finding the right electronic health record (EHR) might not be the most immediate concern for a student, it's worth taking the time to get familiar with the ins and outs of practice management software early in a career. A great place to start is the EMR/EHR Cloud-Based Practice Management Software Series. Reinhardt is also the creator of Describe Cards, a valuable resource for students looking for new therapeutic tools to use with their clients.
Now is an excellent time to start using online tools and building relationships
Students are fortunate to have so many resources available to them as they prepare for their professions, but it can be challenging to choose the ones that offer the most value. Hushmail partners can help navigate these waters by recommending tools and services and providing helpful content about the practice of behavioral health. Putting these tools and networks in place now will go a long way toward ensuring early success as a practitioner.
Looking for more resources you can count on?
Visit our Hushmail partner page. Or if you're interested in becoming a Hushmail partner or affiliate, read more about our Partner and Affiliate programs.
Are you an institution interested in providing Hushmail for Healthcare to your students?
Contact us at 1-844-468-4874 or partners@hushmail.com to learn more.