Forms
Is Adobe Sign HIPAA compliant? Yes, but…
Moving your practice forms online? Let's find out if Adobe Sign is a good way to get them signed.
---
Are you moving your practice forms online and want to know if Adobe Sign is a good way to get them signed?
Adobe Sign might seem like a good choice because a lot of people are familiar with it as a way to read and fill out PDF forms.
But is it HIPAA compliant and the best choice for a healthcare practitioner?
Every service that comes in contact with your clients' information has to be HIPAA compliant.
That means your email, your online practice forms, and your e-signature solution.
Let's find out if Adobe Sign delivers as a HIPAA-compliant service. And if it will work as the e-signature service for your practice.
Adobe Sign can be HIPAA-compliant, but…
Adobe Sign is the signing service that comes with the most commonly used Adobe Acrobat plans: Standard and Pro.
By the way, Adobe Sign has been rebranded as Adobe Acrobat Sign Solutions. However, since pretty much everyone still uses Adobe Sign, that's what we'll go with in this post.
This signing service is not HIPAA compliant unless…
You get the HIPAA-ready version that comes with the Adobe Acrobat enterprise plan.
The enterprise plan definitely wasn't created with small healthcare practices in mind and can end up being quite expensive.
However, Adobe Sign isn't HIPAA compliant right out of the box. But it can be made to meet these requirements:
Most importantly, Adobe Sign comes with a BAA, as long as you get it as part of the enterprise plan. But you have to ask for it.


What's a BAA?
A business associate agreement (BAA) is a signed document between you and a service provider who could encounter your clients' information. In signing the BAA, the service provider takes on the responsibility to keep your clients' information safe and explains how it will do so. It also outlines the steps they will take in the case of a data breach.
HIPAA requires that you get a BAA from every business that could have access to your clients' information.
Read more about BAAs in our blog post Do you need a Business Associate Agreement?
Is Adobe Sign affordable? It depends…
You can't just go online and purchase a subscription to the enterprise plan. You can't even find the prices online. It's necessary to contact someone in sales and go through a long question-and-answer process to get the information you need.
It takes some time, which you might not have.
Once you get the pricing information, you'll have to make some calculations.
Adobe Sign is priced by the number of transactions. When you send a document from your account for signature, that counts as one transaction.
At this time, if you need less than 1000 signatures a year, it will cost $4.56 per transaction.
So consider this scenario: you have three forms you need a new client to sign (e.g., a Good Faith Estimate, informed consent, and communications policy). You send these forms to three new clients each month. That's only nine transactions each month, but it's costing you $492.50 a year.
That is a very rough estimate, of course.
The annual price depends on your intake process and how often you have your clients update their forms.
Imagine if you're a larger practice with 30 transactions a month. That's $1,641.60 a year!
Note – If you expect to use between 135 and 150 forms, then you can go the license route, which will cost $624/year for 150 transactions. But you can't add more transactions if you find out you need them later.
You'll need to talk to a person on the Adobe sales team to get the exact pricing for your practice. But the numbers above will give you a pretty good idea of what it would cost.
Setting up your account for HIPAA compliance and getting your BAA will involve another call. The Adobe team needs to check the BAA box for you so you can get all the HIPAA-compliant benefits.
After that, you'll need to go into your account and enable some things to make sure your account is as secure as possible.
You can read all about the setup in this guide.
Pour yourself a cup of coffee. Some parts of the guide, like the one about SAML/Federated authentication, require a clear brain and lots of time.
The benefits of Adobe Sign
All that considered, what are the benefits of Adobe Sign?
Adobe is a well-known and familiar company. It's trusted and depended upon by many. Unfortunately, the downside to that is Adobe doesn't specialize in healthcare. But we'll get to that in the next section.
Adobe Sign comes with a BAA. As long as you sign up for the enterprise plan and accept the expensive per-transaction or license pricing.
Allows you to use any type of original form. Adobe's e-signature field can be applied to any document, including Google docs, Microsoft Word docs, scanned documents, and PDF forms. To make a form, you upload your original file to the form creator. Then drag and drop fields into the spaces you want your client to fill out.
The downside to Adobe Sign
So yes, there are some good benefits to Adobe Sign. However, some of these come with a significant downside.
Pricing is expensive for small and medium-sized practices. You don't get a break in the price until you're using more than 1000 forms a year. And with the per transaction pricing, you'll have to be very strategic about what forms you get signed. If you're not careful, you could end up with a hefty bill.
It's not built for healthcare. As a company that provides services to many professions, Adobe Sign doesn't focus on healthcare when creating their products. As you know, healthcare has some very specific requirements when it comes to practice forms. Adobe Sign doesn't offer any special healthcare features, such as body charts that can be used by clients to indicate points of pain.
Depends on the forms you already have. Adobe Sign provides a simple form builder that allows you to pull fillable fields into a form you already have. But what if you don't have a form to start with?
No healthcare templates. Adobe does provide some form templates, but they are extremely limited: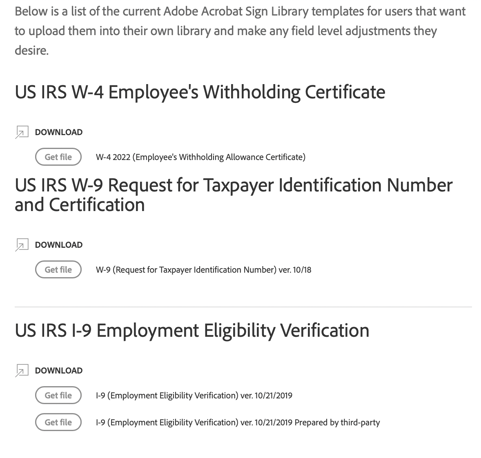 And not for healthcare. You won't find specialized templates like Good Faith Estimates (GFEs) or informed consents.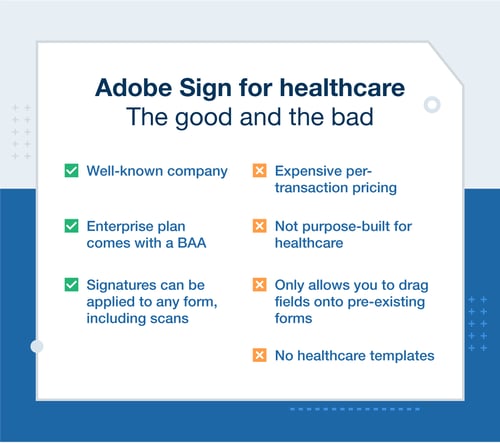 $4.56 per signed transaction might not sound terrible. But when you expect to have around 100 transactions a year, that adds up to more than $400. Is that a lot for e-signatures? Or a good deal?
Let's see what you can do with a different service. For example, Hushmail for Healthcare, a HIPAA-compliant form service that includes e-signatures.
| | | |
| --- | --- | --- |
| | Adobe Sign | Hushmail for Healthcare |
| Price of a signed transaction | $4.56/transaction1 | Limitless e-signatures included in a subscription |
| Yearly cost | $492 for 108 transactions | Starts at $2192 for limitless e-signatures |
1 For less than 1000 transactions. 2 For an annual plan.
There's a better option: try Hush™ Secure Forms with e-signatures
What if you could get e-signatures but also some of the other services you need for your healthcare practice? All HIPAA compliant and at a much lower cost.
That's Hush™ Secure Forms.
This is the form service that comes with Hushmail, a HIPAA-compliant email service popular among small and medium-sized healthcare practices.
Purpose-built for healthcare
Hush™ Secure Forms was developed with healthcare professionals in mind.
It's HIPAA compliant right out of the box. You don't have to ask for a BAA or set up anything behind the scenes. In fact, you don't need any tech knowledge at all.
Special features like body charts
With the drag-and-drop form builder, you can build forms from scratch and use special healthcare features, such as body charts. Body charts allow clients to pinpoint and describe areas of discomfort. They can be used for a wide variety of forms, including homework forms used by mental health practitioners and chiropractic intake forms.
Specialized healthcare templates
Or use a template, including specialized healthcare templates like the Good Faith Estimate (GFE) and health screenings like the PHQ-9 and GAD-7. These screening templates automatically calculate a score upon completion.
Personalized customer service
If you prefer to talk to someone on the phone when you have a question, you'll appreciate Hushmail's personalized support. From the very beginning, you can reach someone by phone. It's not hard to find a number like it is with bigger companies like Adobe. You can always call and ask for someone by name.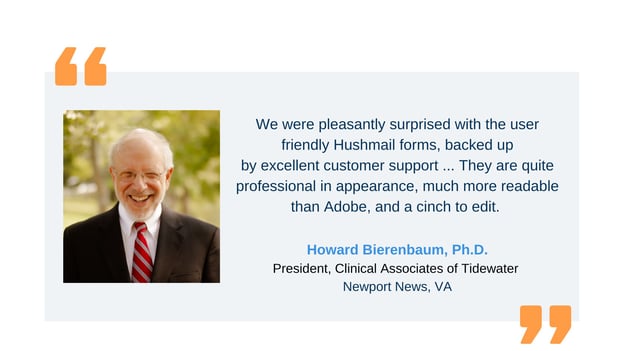 E-signatures, forms, and email under one BAA
Hush Secure Forms, e-signatures, and email are all included in one Hushmail for Healthcare plan under the same BAA. They all work together so there's no trying to cobble together different services. You can send emails on their own and receive responses, create web forms, and get them signed all in one place.
Conclusion: So is Adobe Sign HIPAA compliant?
You can make Adobe Sign HIPAA compliant and get a BAA with the enterprise plan. But it's expensive and not made for healthcare professionals. There aren't any form templates to make things easier. It's up to you to provide the forms to sign.
Adobe Sign has one purpose, and that's to provide you with a way to get documents signed. It doesn't do much else but costs more than some companies that offer multiple services like Hush™ Secure Forms.
We hope you've found this blog post helpful. To learn more about Hushmail e-signatures and how they work seamlessly with our forms and secure email, click the button below.
We're always happy to chat about what you need for your practice.