By Anabeli Fernandez, Marketing Manager
When I hit pause on my role as Marketing Manager at Hushmail for a year of maternity leave, I knew I'd come back at least a slightly different person, and I was right. Becoming a mother for the first time is a life-changing experience. However, I didn't know how much Hushmail was going to change. When I returned in October, I was amazed to see that Hushmail underwent its own transformation during the time I was away. I came back to what felt like a brand new company with a lot of familiar faces and a few new ones.
I found myself in the unique position of being on the inside and outside at the same time. I decided to take advantage of this new perspective and share some notes about the most significant changes as well as the parts of Hushmail that, happily, remained the same.
Some things never change
I was pleased to see right away that the new members of the team embrace our core values and that the foundation of Hushmail hadn't changed at all - we are still one great Hushmail family, striving to build relationships with our customers, keeping things simple and clear, and putting privacy and security first in everything we do.
New products
It took me some time to get up to speed with the main changes that occurred while I was away. Most were in the services we offer, so I found myself having to learn about our products all over again.
The change that everyone is talking about is one of our hidden gems. Hush Secure Forms has come to life in a whole new way. Although a version of it has been available to our customers for years, it was difficult to use if you didn't have some technical experience. The new Hush Secure Forms is for everyone. The drag-and-drop form builder ensures you'll never have to write a line of code, and we even supply ready-to-use templates. If you need a form on your website that submits information securely to remain HIPAA compliant, I suggest you take the new Hush Secure Forms for a spin.
Another big change is how we're bringing new Hushmail for Healthcare customers into the system. We've restructured our pricing plan to offer multiple packages so customers can grow their subscriptions as their businesses grow. We've also made it much easier to pay annually (plus, if you pay for the year, you get a month free). These added touches make using our services easier and more efficient, while benefiting the overall customer experience.
A new team
Ever since I started working at Hushmail four and a half years ago, I've been impressed by the Customer Care team. They seem to understand on a deep level exactly what our customers need in a variety of situations. I was excited to see that several of the new faces are Customer Care Specialists who are already up to speed on delivering the best dedicated customer experience we can.
Speaking of new faces, I finally have a marketing team! While I was away, our new Marketing Coordinator and Content Strategist kept things humming in our marketing world. I'm really pleased and thankful for the work they did, particularly with our blog – the newsletter is a reality now! I am beyond thrilled and can't wait to see what we can do together in the months ahead.
I'm very much enjoying getting to know all the new members of the Hushmail team.
Looking forward to another great year
It was certainly an interesting experience being away for so long - wonderful in many ways, but I'm also happy to be back with my work family where I can help Hushmail grow and evolve. It was a pleasure to see just how much had been accomplished in a mere 12 months. The best part is there's still plenty to do as we listen to what our customers need and respond accordingly. I'm very excited about the future with so many great projects brewing at the Hushmail headquarters. I can't wait to get going.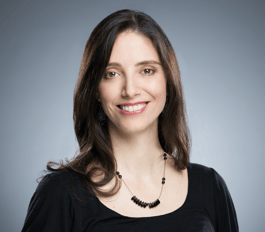 Hushmail Marketing Manager Anabeli Fernandez returns to Hushmail after a year-long maternity leave to find that a lot changed. She's happy to discover that new faces and products combined with Hushmail's steadfast adherence to strong core values continue to make Hushmail a great place to work and find reliable HIPAA-compliant communication tools.